Present at the high-rise parking lot in Tampines area on the morning of May 15, the bride Wee Jie Xin (27 years old) wore a floating white wedding dress, held a bouquet of flowers in her hand, smiling brightly, posing for photos. next to the bridesmaid carriage.
What caught many people's attention was Miss Wee's wedding car. Not a luxury car like urban weddings, Ms. Wee's car is a ComfortDelGro taxi. The identity of the driver is even more special, because it is none other than Mr. Wee Phoy Thong (65 years old), the bride's biological father.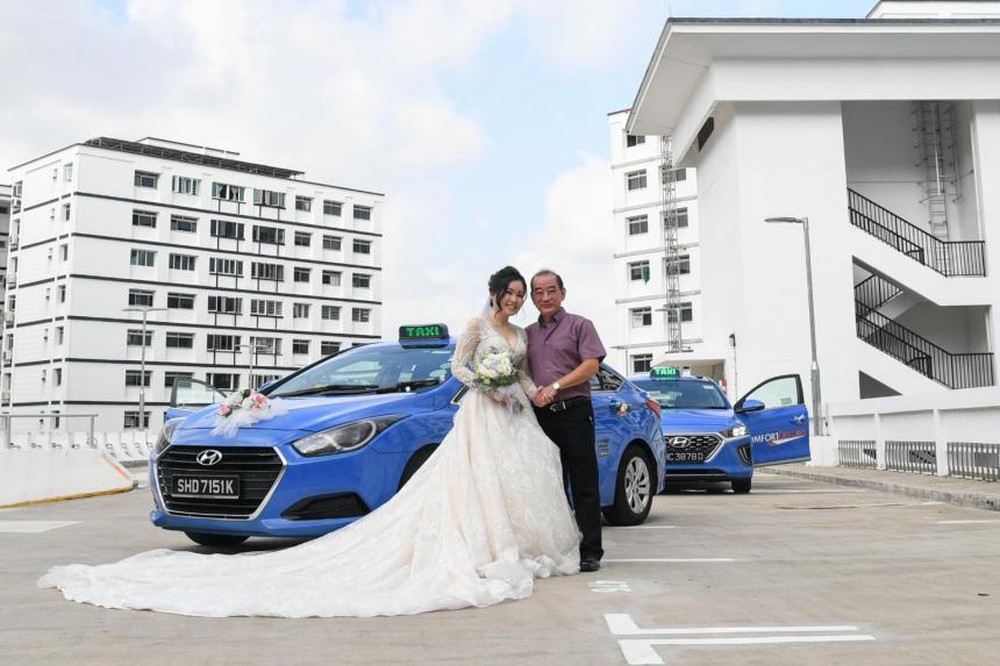 Being a human resources director, the girl still chooses a taxi driven by her biological father to make a car for the bride. (Photo: Straits Times)
"I also told my husband about the plan to use a taxi to pick up the bride while we were still dating, and he was supportive and happy about the idea," added Ms. Wee. things were in the plan. My father has been a taxi driver since I was born. He used to take a taxi to take me and my two older brothers to school."The Straits Times quoted Ms. Wee, who is the director of the human resources department, about the decision to choose a taxi as the bride's car.
It is quite rare for Ms. Wee to choose a taxi as the bride's car for the procession. Because usually, the bride and groom will rent luxury cars as a means of transportation on the big day.
Before Ms. Wee, earlier this year, a ComfortDelGro taxi was also used as a car to pick up the bride. Or like 2 years ago, a customer rented a taxi to join the procession.
Ms Wee said that for her and her father, taxis are an important part of their lives. Because thanks to her father's taxi, Ms. Wee was taken to the emergency room in time during an asthma attack at home.
Her daughter's wedding also marks the beginning of her father Wee's retirement.
"My father said he would soon return to his part-time job as a driver. I am very proud of what my father does."Ms. Wee shared.
Taking on the position of being the driver of the wedding car for his daughter, Mr. Wee Phoy Thong was extremely cautious. Thinking that a taxi is not solemn enough for the procession, Mr. Wee Phoy Thong asked two colleagues to drive two taxis next to them to form a grand procession.
"One taxi wasn't enough to attract attention, so I asked for two more. Our journey is two hours."Wee Phoy Thong said.
Talking about the lifelong driving profession, Mr. Wee Phoy Thong confided, "This is hard work. Any situation can happen at any time. My back is already sore and it's normal to have diabetes or hyperlipidemia. But I like driving because I am free, I can go home to rest when I feel tired. I never thought about changing careers."
You are reading the article
Overwhelmed with financial capacity, the girl still chooses a taxi as the bride's car

at
Blogtuan.info
– Source:
Soha.vn
– Read the original article
here