Công nghệ
EVN actively brings electricity services to the network environment
Notify customers immediately if output spikes
As a unit managing 46 million electricity customers, Mr. Ngo Tan Cu, General Director of Central Power Corporation (EVNCPC) believes that digital transformation must be win – win, "not for decoration".
Mr. Cu emphasized: "Our point of view is to take the customer as the center. We determined that if you want to be more productive, you must apply smarter technology, to do that, you must include IT. All customer service activities are done through the app. Like in Da Nang, within 10 days, if you see a customer using 30% more electricity, the electricity will send a message to the customer."
Thanks to the application of electronic meters, electricity workers no longer have to climb poles in harsh sunny and rainy days, minimizing errors. "In the past, it was very difficult to go to the index. Workers climb the poles, sweat boiling tears. If recording at noon, it is dazzling and often has errors. The results are returned but the error has to go 20 kilometers to record. Now that there is an electronic meter, the data is automatically transmitted, solving errors and reducing customer complaints," said Mr. Cu.
EVNCPC also promotes digital communication channels. Accordingly, improving customer service web and app channels, adding new features such as Personalization; Functions related to the customer's electricity usage, interaction with new users; Abnormal power output warning; Communication and promotion. In addition, this unit is also testing digital counters that combine video call services to support customers who have not yet or have not yet proficiently used smart mobile devices.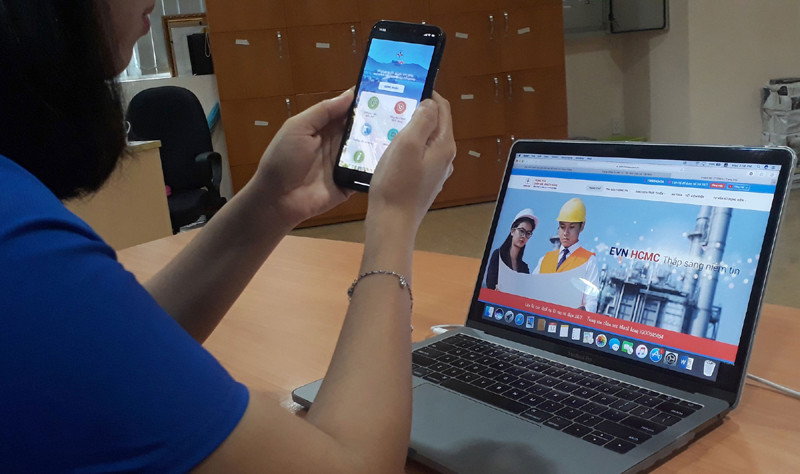 "EVNCPC customers can register for electricity services, make payments, and access information online through 8 digital communication channels, the rate of electricity service provision through the network environment is 90.51% (only 12 services are counted). electricity)", said a representative of EVNCPC.
Thanks to the application of digital transformation, customers can monitor their daily electricity usage, monitor the processing progress of electricity service requests, and be alerted when there are "abnormalities" in electricity use. According to EVNCPC, through this, EVNCPC has detected early 514,551 abnormal increase/decrease in output, 1,036 cases of short-circuit in the customer's power system and assisted in handling before the unfortunate incident occurred.
EVNCPC has also applied technology to shorten the processing time of customers' requests such as introducing a chatbot system, an automatic answering center to answer customer questions; Digitize field operations and field data to improve new power supply processes. As a result, the electricity access index is reduced to 1.78 days/work.
Helping customers use electricity safely and economically
Deputy General Director of Ho Chi Minh City Electricity Corporation Luan Quoc Hung said: "Ho Chi Minh City's electricity industry is very proud to have a product that is a power failure management program approved and recognized by EVN as a Make by product. EVN".
For a distribution corporation, power failure management is very important. Before 2010, the power failure management was managed manually by EVNHCMC in excel file. Through the application of this program throughout Ho Chi Minh City, the power supply, power failure detection, power repair, power supply management will be performed visually on a single online diagram. In addition, combined with the automation system, monitored and controlled equipment, smart meters to transmit data to this program. Thereby, the power sector can monitor the situation of electricity supply throughout the city 24/7.
Currently, EVN TP.HCM has also upgraded its website and customer care app to help customers easily monitor daily power consumption anytime, anywhere via website, mobile application. Thereby, customers can actively check and calibrate household appliances in the safest, most economical and effective manner, contributing to reducing the cost of electricity for the family.
EVN HCMC has also put into operation a multi-channel switchboard, creating many interactive channels with customers, not only on the website or call center, but also through Zalo social network, EVNHCMC Customer Service application, mobile phone Mobile, Facebook and modern communication channels, automatic replies such as chatbots, callbots…
In addition, the GIS-based telemetry equipment operation management application has supported power companies to monitor the operation of telemetry points on the digital map interface in an intuitive and vivid way; quickly determine information as well as the installation location of measuring points without having to look up from other management software.
Mr. Tran Dinh Nhan – General Director of EVN affirmed that business – customer service and technical management are two particularly important areas, reflecting EVN's operational efficiency. Therefore, EVN highly appreciates the innovation, creativity and initiative of its units in these fields.
As a result, in 2021, up to 97.9% of transactions generated by documents between EVN and customers will be carried out electronically (increasing by 19.9% ​​compared to 2020 and exceeding 7.9% compared to the previous year). requirements set out in the digital transformation plan); 100% of work records in the field of Business & Customer Service are processed on the network environment by electronic method. In customer care, the number of requests received through the channels of the Customer Care Center, the Public Administration Center, the Public Service Portal accounted for 99.67% of the total requests; only 0.33% are received directly at customer transaction offices.
Hainan
You are reading the article
EVN actively brings electricity services to the network environment

at
Blogtuan.info
– Source:
vietnamnet.vn
– Read the original article
here