Mental violence is a common saying, but in fact it is difficult to quantify to confirm whether you have suffered from emotional abuse?
For many years now, Le Thanh Thuy (Hung Yen) has lived in silence with her husband and children. Thuy works as an accountant for a garment company, her income is not much, but she always tries to take care of her family. On the contrary, her husband is both lazy and has many bad habits.
Many times, friends advised Thuy to divorce and raise her children to relieve fatigue, but wanted to keep the family so that the child could have a father and a perfect family.
However, her husband is lazy, does not work, gambles and often scolds Ms. Thuy. Three years ago, he beat Ms. Thuy and had to go to the hospital. The commune police asked for an injury assessment, but Ms. Thuy loved her child, so she filed an application to resolve it herself.
Thuy returned to live with her husband, the husband did not dare to beat his wife but often cursed Thuy. He also thinks that his wife is pregnant with his ex-lover, enough of his wife's past to dig up and criticize.
He uses words like "whore", "whore" to refer to his wife. Thuy always kept quiet. She was afraid to speak up and her husband would beat her.
Since 6 months ago, Ms. Thuy has been losing sleep constantly, she is always tired, even she can't control her emotions. At home, she doesn't say anything, but when she comes to the company, she seems to vent all the secrets in her heart to her colleagues, she often screams and gets angry.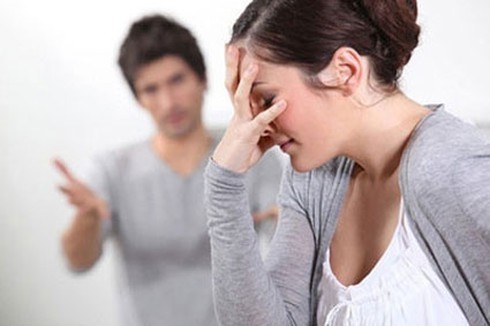 Illustrated photo.
You advised Ms. Thuy to go for a psychological checkup because her health is very poor. Ms. Thuy went for a general check-up and took a depression test with a scale. The doctor said that she had a severe emotional disorder.
Like Ms. Thuy, Ms. Hong Nhung – born in 1989, Thuong Tin, Hanoi used to suffer from anxiety disorder because of mental abuse. Nhung worked as a barber, she met her husband, he had a wife.
Ms. Nhung said that her husband is a patriarchal, brute force. He always forces his wife to do what he wants. Nhung did against her will, ready to rush in to give her a slap, calling her husband and wife. Many times, Nhung is embarrassed because he has friends, he is ready to say: You – me.
Her husband did not let her go to her grandmother's house or meet her friends. At one point, when she was at work, he called to tell her that she had to ask to go home immediately or else he would rush to the store and scold the whole store for the crime: "don't let my wife take a break".
Nhung wanted a divorce to free herself, but he said that if she divorced, she would leave without being able to raise children. Nhung is also afraid that her husband won't let her raise her children, she also loses in court because she doesn't have a stable job or a house to take care of her children. She had to endure living next to her husband, she herself did not know how long she could prolong this life.
Mental abuse is difficult to quantify
According to Dr. Huynh Thanh Hien – Psychiatric Hospital of Ho Chi Minh City, mental violence is difficult to quantify. It can only be quantified retrospectively. For example, if a woman who has experienced violence or has an anxiety disorder will medically review her life, will she experience mental violence again?
Mental violence, victims are subjected to all kinds of abuse such as scolding, humiliation with crude words, heavily infringing on dignity and honor. Not only that, it also exists in the form of mental threats, psychological terror… pushing victims to crisis, resentment. Most cases of emotional violence occur in more educated families.
Physical violence can be assessed by the existing wounds on the body, but emotional violence is very difficult. There are husbands who say whatever they say, they don't mind, don't get affected mentally. But there are also women who are heavily influenced by their husband's threatening words and actions – leading to psychological trauma and mental disorders. Therefore, Dr. Hien said that it is normally difficult to take the standard to say this or that word to confirm that it is mental violence.
'Verbal actions cause serious mental harm, even to the extent that, in many cases, victims can resort to dangerous behaviors such as self-destruction, suicide…
When examining patients directly, doctors often have to resuscitate and most of these cases have been beaten at least once,' said Dr. Hien.
Khanh Chi
You are reading the article
How does mental abuse affect health?

at
Blogtuan.info
– Source:
infonet.vietnamnet.vn
– Read the original article
here