1. Unusual wage earners
In 1993, Vuong Van Ngan, 25 years old, graduated from Nanjing University and was assigned to work in Shanghai. This is a great job if you want to have a stable life. But what he had in mind was how to get rich as soon as possible, so he quit his job and moved to Shenzhen within a few months.
Becoming an influential figure has been Vuong Van Ngan's aspiration since he was a child. Born into a poor peasant family in Qianshan district, he once specifically instructed his mother to keep his textbooks and notes.
At that time, the streets of Shenzhen were full of gold diggers and wage earners. When Vuong Van Ngan got there, he had only 10 yuan left. Not to mention staying in a hotel with this meager amount of money, food is already a big deal. He found a cement pipe as a place to live, there are people in the neighborhood who are "pretending to be blind", and some are unemployed.
Since looking for a job, Vuong Van Ngan looks different. He put aside his college diploma and took his high school diploma to find friends in the same situation. The reason is to lay the foundation first, otherwise how to manage the factory later?
A week later, he joined a Hong Kong-owned company as a warehouse manager. In just over a week, he had recited the codes of thousands of items such as power cords and plugs. The supervisor, who had never seen such a strange storekeeper before, said, "He's not a hired man at all!"
After that, he was promoted seven levels in a row until becoming an assistant to the general manager. The bonuses and commissions he received in a year amounted to one million yuan.
2. Turn a relationship into a business
Vuong Van Ngan often tells his subordinates that he wants to build a company and open a factory. But no one believed him, because he was just a young man in his 20s anyway.
In 1995, Vuong Van Ngan turned that myth into reality: he founded Kaiwei Industry Co., Ltd., starting from familiar jobs, specializing in electrical wire business. Because of the small size of the company, he has to pay before receiving goods from suppliers, and only revenue from successful delivery makes capital very limited. Just one problem application, the company can be wiped out.
It was also one of the difficult times for Vuong Van Ngan. He drives trucks to and from supplier to customer, almost always on the road to make sure every shipment is safe.
Vuong Van Ngan believes that the relationship is fruitful and that his own business is slowly going down the planned path. What about the relationship? He's not sure. When his baby was born, he decided to invite all the vendors and customers over for a full month of drinking and took the opportunity to test his relationship with everyone. He was overjoyed at the results that day, nearly 200 guests came, and the 10 originally prepared tables had to be given more chairs to sit.
He immediately decided to expand the business, and later established the Shenzhen Power Transmission Line Products Factory to expand the business into manufacturing. At that time, right at the time of the financial crisis in Southeast Asia, he saw a chance that production equipment would be sold out, so he went to that equipment manufacturer to buy back 100 sets of equipment. in the form of installment payments. As a result, the factory has not been built yet, but the production capacity has doubled. After a few months of living at the construction site, his factory was built, he was profitable every month, in the third month his monthly revenue skyrocketed from 2 million yuan to 10 million yuan. The market is booming, and Vuong Van Ngan is extremely happy. But then came a big blow.
A customer of Chaoshan placed a large order, but when it was sent, the other party disappeared with the goods, causing Vuong Van Ngan to lose millions of yuan and was directly pushed to the brink of bankruptcy. He had to drive a truck to find each supplier, saying that the company needed to pay for goods in installments when it was difficult. Once again, the relationships worked, the partners trusted him and he carefully paid back the debt a few days before the commitment, step by step getting rid of this arduous door.
After that, the company grew rapidly, building a new factory every year. During his rapid expansion, he was afraid of repeating the same mistakes, so he conducted a pressure test. He summed up the failures of himself and other entrepreneurs, finding that many companies fail because of their partners. This is an issue that must be taken care of for him. Then he came up with the idea of ​​a "failed simulation experiment".
He broke the news that a subordinate factory that had defaulted on 50 million yuan was about to go bankrupt and had to liquidate its suppliers. Soon after, a number of suppliers came to collect the debt and some said they could wait, and opinions were mixed. According to mixed reactions, Vuong Van Ngan screened for reliable allies, and then established closer strategic partnerships with them.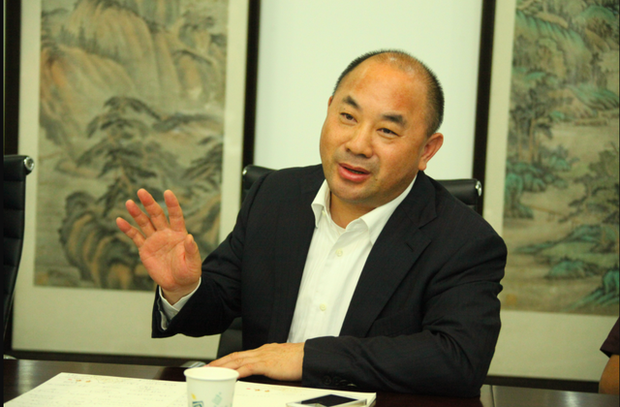 3. Choices that frighten shareholders
In 1999, Vuong Van Ngan integrated several of his factories to form Zhengwei International Group, with total assets of about 1 billion yuan. He then scaled up from the wire factory to the headwaters of the industry, opening his own cable factory, plastic factory and copper processing plant, selling his products to more than half of the world. 100 countries in the world.
By 2003, Chinh Uy had built up a considerable scale and was one of the world's leading power cord manufacturers with a complete domestic industrial chain.
In the same year, the outbreak of SARS and the price of various resources plummeted, Vuong Van Ngan considered this a great opportunity and decided to buy copper and aluminum mines with a relatively high probability. Although everyone unanimously opposed, but no one stopped, when SARS passed, the value of copper and aluminum mines doubled, shareholders increasingly believed that Vuong Van Ngan had a very long-term strategic vision. .
In early 2005, Vuong Van Ngan learned that Dong Lang had a project to produce 300,000 tons of copper coil steel because he could not find a recipient, so he was calling for a bid.
Vuong Van Ngan wants to take over this project, he thinks this is a "gold mine", but he is opposed by everyone, because Chinh Uy's total revenue is just over 5 billion yuan, but the capital invested in the project is just over 5 billion yuan. This project is 2.8 billion yuan. But the protest was futile, and at Vuong Van Ngan's insistence, the first phase of the project began in 2007.
It is not easy to deal with the huge construction budget. Meanwhile, he sold two factories and then had to take out a bank loan. In order to win the heart of the head of the bank, every time he entertains guests, he drinks to the point of collapsing on the wine table to show his "sincerity", thereby in exchange for a loan of 1.35 billion yuan.
After solving the main difficulties and finally starting to build the factory, Vuong Van Ngan shouted that he would build a "Worldwide Copper Manufacturing Business". According to him, from equipment to raw materials, everything is still done according to "standard", his logic is that products can only be produced using the best equipment and best raw materials.
Only new products help businesses stand invincible.
In this way, the first phase of Dong Quyen Uy Project was completed and put into operation in 2009. That year, Chinh Uy International Group's annual revenue nearly tripled from 11.6 billion yuan last year to 31.9 billion yuan, while Quan Wei contributed 10.6 billion yuan in revenue.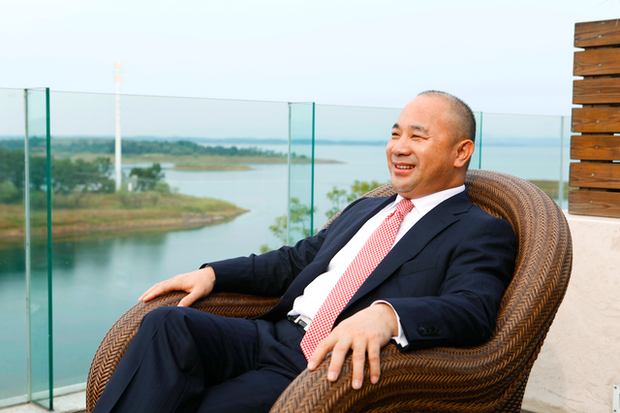 4. Bargain Hunting and Overcoming Crisis
Vuong Van Ngan thinks what others do not dare to think, does what others dare not do. During the Asian Financial Crisis of 1997, SARS of 2003 and the Global Financial Crisis of 2008, he was constantly on the ground and rarely missed.
He even summed up the "5 arbitrage to make money", namely time difference, interest rate differential, exchange rate differential, product arbitrage, and price arbitrage. "For example, if copper in London is going to plummet, then tomorrow is Shanghai too. But very few people can capture this time difference, and we have to catch it."
In 2009, when the global copper price fell to historic lows close to the cost of mining, Vuong Van Ngan immediately bought hundreds of thousands of tons of copper on the spot and futures markets. Then, when the price of copper rose again, he began to sell his reserves, earning a profit that was twice or even 5 times higher. In 2013 and 2014, he's still doing the same. Vuong Van Ngan said: "To make a lot of money, you have to grasp global trends and patterns." He continued: "In the copper industry, the main thing is to have the right to speak in the industry, and this right to speak does not depend on technology and the market, but on these non-renewable resources."
In recent years, he has invested in more than a dozen ores around the world, "equivalent to acquiring assets of hundreds of billions of dong. What these assets are, they are all silver".
Not only mining, he also invests in creative porcelain culture and high-tech business. He said: "People working in factories grow more potatoes, less ginseng." The company has been doing that for ten years, and works great. "Chinh Uy Group earned 300 billion from the copper industry, 30 billion from the high-tech industry and 13 billion from the porcelain culture creation industry. We must clarify this order. This is the maturity of wisdom in life. "
Big business has no boundaries. The 47-year-old man Vuong Van Ngan always researches and is always in a state of mind, just seeing his prey, he will definitely summarize. Chinh Uy International Group, even though it has been on the Fortune Global 500 list for 3 consecutive years, although it has crushed the beverage king Tong Khanh Hau at the back of the list of the rich, he is still not satisfied, but continues to place the order. The goal is to be in the top 100 in the world in 5-10 years. Therefore, it is not surprising that he "suddenly" exploded in any field.
You are reading the article
Successful people never rely on capital!

at
Blogtuan.info
– Source:
Soha.vn
– Read the original article
here