Although Alibaba has not determined the exact number of employees will be laid off, but sources familiar with the Chinese e-commerce giant may cut more than 15% of its total workforce, or 39,000 employees. , Reuters news.
Meanwhile Tencent, another internet giant with a WeChat app, also said it would cut staff at some of its business units. Businesses that oversee business operations, including online video and search platforms, will also be cut 10-15% of their total staff.
Alibaba and Tencent have not officially commented on this information.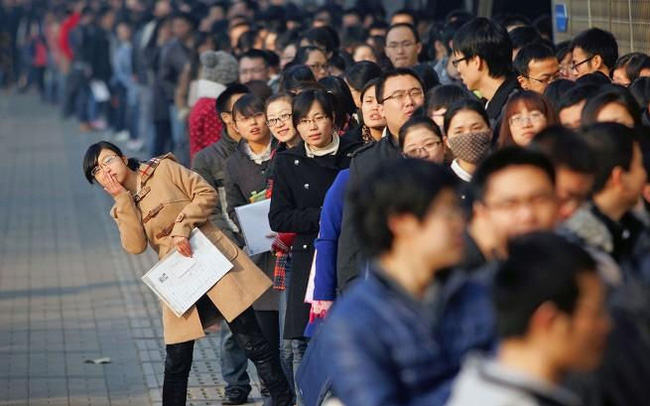 If true, it would be the first major job cuts for the two Chinese internet giants since the country's regulator issued unprecedentedly strict regulations targeting the biggest names in the industry. technology sector. China's internet industry, which has enjoyed years of growth opportunities, is in a shambles.
Strict regulations coupled with a slowing economy have severely affected Chinese internet businesses. Shares of these businesses also experienced several months of sell-off. These businesses are also unable to obtain capital and expand their business overseas, where they face more competition than their protected but protected market of more than 1.4 billion people. As a result, companies like Alibaba and Tencent must find ways to cut operating costs.
The difficult position of Alibaba
The source said Alibaba has started laying off employees since the beginning of last month. This discussion has also been conducted in some departments to help the company's management to have a specific plan for the reduction. Many units are also increasing layoffs at this time.
Meanwhile, another source said that many of Alibaba's services, including the food delivery business Ele.me, will be cut up to 25% of the workforce. Thus, 1 out of every 4 people who are working will be forced to lose their job.
In February, Alibaba posted its slowest quarterly revenue growth since it went public in 2014. Sales at its core business plummeted as competition intensified. Alibaba shares have also fallen more than 60% since the start of last year.
Jack Ma's public criticism of the regulator is considered a turning point, causing a chain of events with Alibaba, including a fine of up to $ 2.8 billion for monopoly. A series of regulations have also been put in place with Alibaba. Worst of all, Ant Group, the e-payments company that Alibaba backs, had its IPO suspended just days before going public.
With the threat of mass layoffs, the heyday of Alibaba and the Chinese Internet giants may be over. By last year, Alibaba's employees were 251,462 people, double that of 2019. Currently, only Alibaba Cloud is the unit that does not seem to have any layoffs.
Tencent is ready for the "winter" of growth
Sources familiar with the matter said that Tencent laid off employees because of a loss in business or in less productive areas such as Tencent Video and Tencent Cloud. During an internal meeting at the end of 2021, Tencetn CEO Pony Ma said that employees should prepare for a "winter" of growth. This makes many people feel insecure about their jobs.
As of June of last year, Tencent had 94,182 employees, significantly more than the 70,756 employees reported a year earlier. Instead of the growth typically seen in China's tech giants, the mass layoffs could signal a more bleak future ahead.
Not only Alibaba or Tencent, ride-hailing company Didi also plans to reduce its total number of employees in China by 15%. This business is currently the focus of China's investigation for issues related to cybersecurity. Didi's US listing was also cancelled. The company expects to complete the layoff process by the end of March.
Like Alibaba and Tencent, Didi did not immediately respond to the media on the matter.
Not only businesses, many famous figures in the Chinese technology village are also facing difficulties in their own hometown. One of them is Jack Ma, who was once seen as a symbol of China's tech boom. Jack Ma's blunt criticism of the regulator has not only caused Alibaba to be dealt with, but also made him appear in the dark.
There were times when it was believed that Jack Ma might be banned from leaving the country or even be arrested. However, this information has proven to be incorrect. However, with rare appearances, Jack Ma is said to be focusing on education and high-tech agriculture. Food security is the most prominent issue in the economy of 1.4 billion people and if it can be solved with technology, Jack Ma can return to his original position.
https://cafef.vn/thoi-ky-hoang-kim-da-het-con-ac-mong-khong-chi-cua-rieng-jack-ma-alibaba-va-tencent-sap-sa-thai- hang-chuc-ngin-lao-dong-20220317162233404.chn
https://cafef.vn/thoi-ky-hoang-kim-da-het-con-ac-mong-khong-chi-cua-rieng-jack-ma-alibaba-va-tencent-sap-sa-thai- hang-chuc-ngin-lao-dong-20220317162233404.chn
You are reading the article
Alibaba and Tencent are about to lay off tens of thousands of workers

at
Blogtuan.info
– Source:
Afamily.vn
– Read the original article
here