For women, kitchen utensils will never be enough, especially machines that make cooking easier, more convenient and faster.
The birth of the blender is a product that is welcomed by many women because of its extraordinary uses, both for helping to mix fruits, and also providing more natural nutrients from fruits, plants, vegetables for the body.
If the home machine is bulky and difficult to carry, recently on the market there is a mini portable blender that is compact and very convenient. After its brief appearance, this handset has become a hot product in the market.
According to the survey, this type of machine has many models and designs from various brands, the price ranges from 250,000 VND to 700,000 VND / unit. In particular, the blender from China below is appreciated by many women on the e-commerce platform, the price is suitable for most of the money.
Machine specifications:
– From China
-BPA free, impact resistant glass. Has a non-slip silicone coating.
– Dimensions: 110x110x230mm
– Battery capacity: mAh
– Standard: EU
– Power supply: DC5V/2A, with fast charging
– Stainless steel blade.
– Price: 250,000-330,000 VND
This machine is introduced with a compact cylinder design that can be carried anywhere, very convenient. The machine can grind vegetables, fruit, ice… suitable for office women who don't need to run to buy water until breaking fast, gym friends easily grind juice, moreover the machine is designed with a Modern touch automatic shutdown when the lid is opened, hidden blades, close tightly to operate. According to the advertising shop, this machine is equipped with a 6 blade blade, which can easily grind various fruits and ice.
Knowing this machine when he saw a seller of Chinese household appliances for sale in the apartment market, Hanh Van (in Thanh Xuan, Hanoi) saw that it was shaped like a cup, compact, but himself. I really like drinking smoothies, so I bought to try it for 270,000 VND. "I think it is suitable for office women or children with small children because of its mobility when moving, but also compact and easy to clean. Moreover, this type only needs to be charged, so it can grind anywhere, no need to plug it in. When washing the machine, it is also easy and clean. I took it to the company to use, everyone loved it, so they asked me to order it for them."
Van said the drawback of this machine is that it has to be held and turned to grind, so that if you grind a lot your hands will tire quickly and the machine will also get hot.
On the e-commerce site, some women reflected that the device has been charged, but the battery is very low, sometimes before finishing the smoothie, the machine runs out of battery, making it inconvenient. In fact, many women say that when buying electronics, they need to look for a reputable shop, because if they buy a bad product, the machine won't last long, the grinding force is weak, and the machine parts are uncertain.
Instead of having to cut on a cutting board like before, or using a garlic chili slicer that requires a lot of energy, recently there is a versatile, compact, practical and practical mini chili grinder available on the market. , chilies, shallots, vegetables, and fruits. Both help the spices to grind quickly, while limiting eye irritation, burning, and discomfort.
Machine specifications:
– From China
– Battery voltage: 3.7V
– Rated power: 45W
– Rated input voltage: 5V
– Rated input current: 1A
Amazing features:
– Chop garlic, ginger, chili, peanuts, walnuts, grind fruit to make dishes like juices, milkshakes, smoothies
– The blade is made of high quality stainless steel, with 35 degree angle design, sturdy, fast, safe, high temperature resistance and effective anti-corrosion. This versatile hand blender is equipped with a powerful motor with a 45W capacity which effectively reduces noise and lasts a long time.
– Price: 80,000-190,000 VND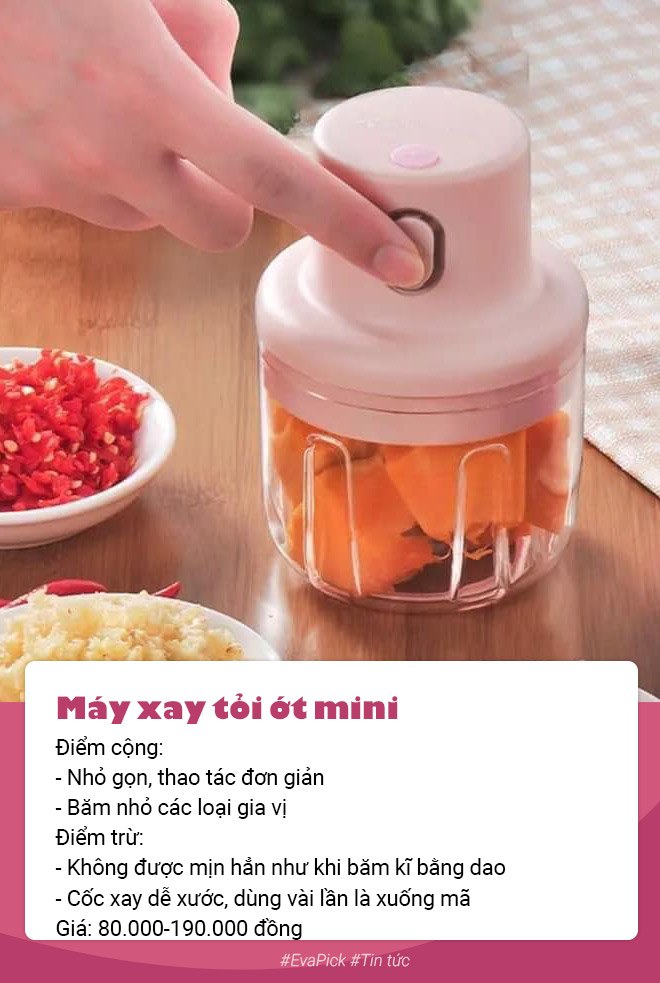 As a person who buys and uses a handheld garlic chili grinder, Anh Huong (in Cau Giay, Hanoi) says: "I love to cook but I am very lazy to chop onions, garlic and chilies. When using this machine, I find it very easy. , just a few simple steps and done, no need to bring a cutting board to cut as tightly as before.To grind garlic and chili, the machine handles quite well. Even though the rotation speed is not high, it takes about 1-2 minutes and beat continuously to make garlic finely chopped, but the product is not as smooth as when chopped with a knife.
With hard things like ginger lemongrass, after about 3-4 minutes of handshake, the mixture of ginger, lemongrass and chili was also done, not too pure but good too. This machine is used to grind raw meat such as shrimp, crab, and fish which are cut into small pieces, tender, but a little longer, but pork, beef and chicken are harder, or the meat gets caught in the blade."
Huong said, this machine is basically very convenient, easy to use and easy to clean, does not take time, does not take up space, but because it is cheap, not good, grinding cup is easy to scratch. , used several times is to code.
Blenders for home use can be quite expensive, starting at 1.5 million VND or more depending on the brand, but due to their large size and somewhat complicated use, many women are afraid to grind just a small amount of meat or meat. pulled out, cleaning and storage takes a lot of time. Recently, kitchen lovers came to RANBEM mini meat grinder with prices starting from 350,000 VND – 450,000 VND / unit.
By owning this machine, women can grind their own dishes at home, without having to rely on a butcher who has already ground beef, quickly and cleanly. "Since I got this machine, I have never bought meat or fish that has been mashed first in the market. Previously I was too lazy to take the blender out, so I asked the salesman to grind it for me, but everyone knows the blender. in the market. , or even ground beef in supermarkets is difficult to ensure cleanliness because the machine is exposed to the sun all day, but the seller must clean the machine as carefully and cleanly as I do", said Ms. Bich Nguyen (in Dong Da, Dong Da district). Hanoi) share.
Machine specifications:
– Double vortex blade design
– High-quality heat-resistant and impact-resistant glass bowl
– Can be used for almost any food in the kitchen
– Capacity: 1.2L
– Dimensions: 10cm x 18cm x 25cm
– In compact weight: 1.2kg
– Voltage: 220V – Capacity: 200V
Amazing features:
– Versatile meat grinder products are designed to be flexible and easy to use. Designed with 2 speeds and a reverse spinner double blade system that pushes food down to ensure food doesn't spill. The upper body of this motorbike is designed with luxurious stainless steel material with 3 layers of insulation inside.
This multi-functional meat grinder is also designed to be safe to use. The machine only operates when the upper body is perfectly aligned with the blade shaft – mortar and cap. This is called a dual security system. The machine will be automatically disconnected if there is no connection during operation, thus ensuring safety in case of malfunction during operation.
– Price: 350,000 VND – 450,000 VND
"This was a housewarming gift from a friend for me. That friend also used this kitchen item and found it very nice, so she bought one for me to use. Indeed this hand blender is really "pressure" really, compact and easy to use. I I have small children, often grind food for my children and really like this machine because it is fast and easy to clean. If we talk about the drawbacks, this machine when grinding The sound is quite loud, and if used for a while, the glass is easily scratched, or if stored carelessly and the glass breaks, it would be considered a failure of the whole machine", added Ms. Bich.
– From China
– Voltage: 220 V
– Power: 400 W
– Frequency: 50/60Hz
– Maximum Milling Capacity: About 100g
– Dimensions: Approx.94*68*198mm
Product Weight: About 800g
-Material: ABS shell, stainless steel blade
Standout features:
– Grind all kinds of dry and hard beans such as coffee, pepper, beans, rice, cereals…
Features sharp stainless steel blades and an interior that sharpens quickly, is durable and easy to clean
– This machine is made of high quality material, anti-oxidation, safe to use.
– Compact, easy to carry
– Price: 210,000 – 290,000 VND/piece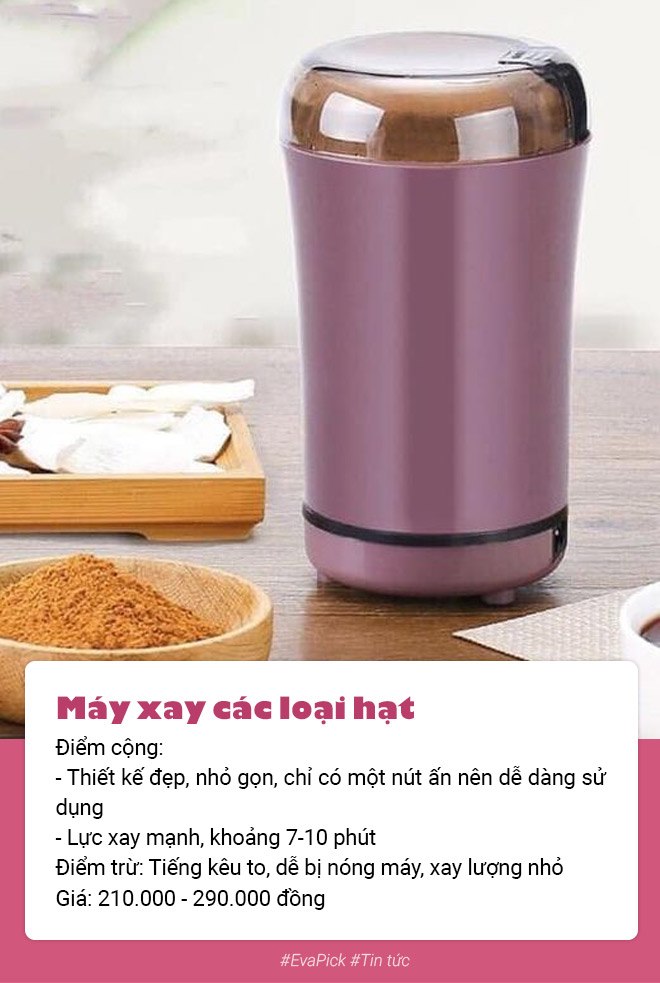 According to surveys at home supply stores or e-commerce platforms, automatic mini dry grain grinders cost from 210,000 to 290,000 VND/piece. In the comments section, many women have praised and rated this machine 5 stars for its small and compact design, press and hold the button for a few minutes and the nuts have been crushed.
"With that price, seeing the product after it is ground and the engine design, I am very satisfied. The engine power is quite strong, it takes about 7-10 minutes for the seeds to be crushed.
On the downside, the machine has a loud sound, prone to overheating, the machine is small, so it can only grind a little, suitable for small families. The price is cheap, so when using it you have to be careful and store it properly so that the device lasts," a user shared his experience after using this machine.
Note: It is necessary to buy from a reputable shop, if you buy it from a shop that sells "bad" items, the machine will be damaged after 1-2 days of use.
You are reading the article
4 kinds of portable mini machines in the kitchen, cheap and convenient, women love to love
at Blogtuan.info – Source: Eva.vn – Read the original article here