Thế Giới
Russia kept dozens of planes, Ukrainian city was hit by super powerful bombs
Russia's Transport Minister said that nearly 80 of the country's planes have been seized by foreign countries, amid a series of countries imposing sanctions on Moscow over Ukraine.
The Interfax news agency, quoting Russian Transport Minister Vitaly Savelyev, said that the sanctions had prevented Russia from accessing most of the supply of aircraft, spare parts and aviation services, while the Russian airlines have to lease up to 515 planes abroad.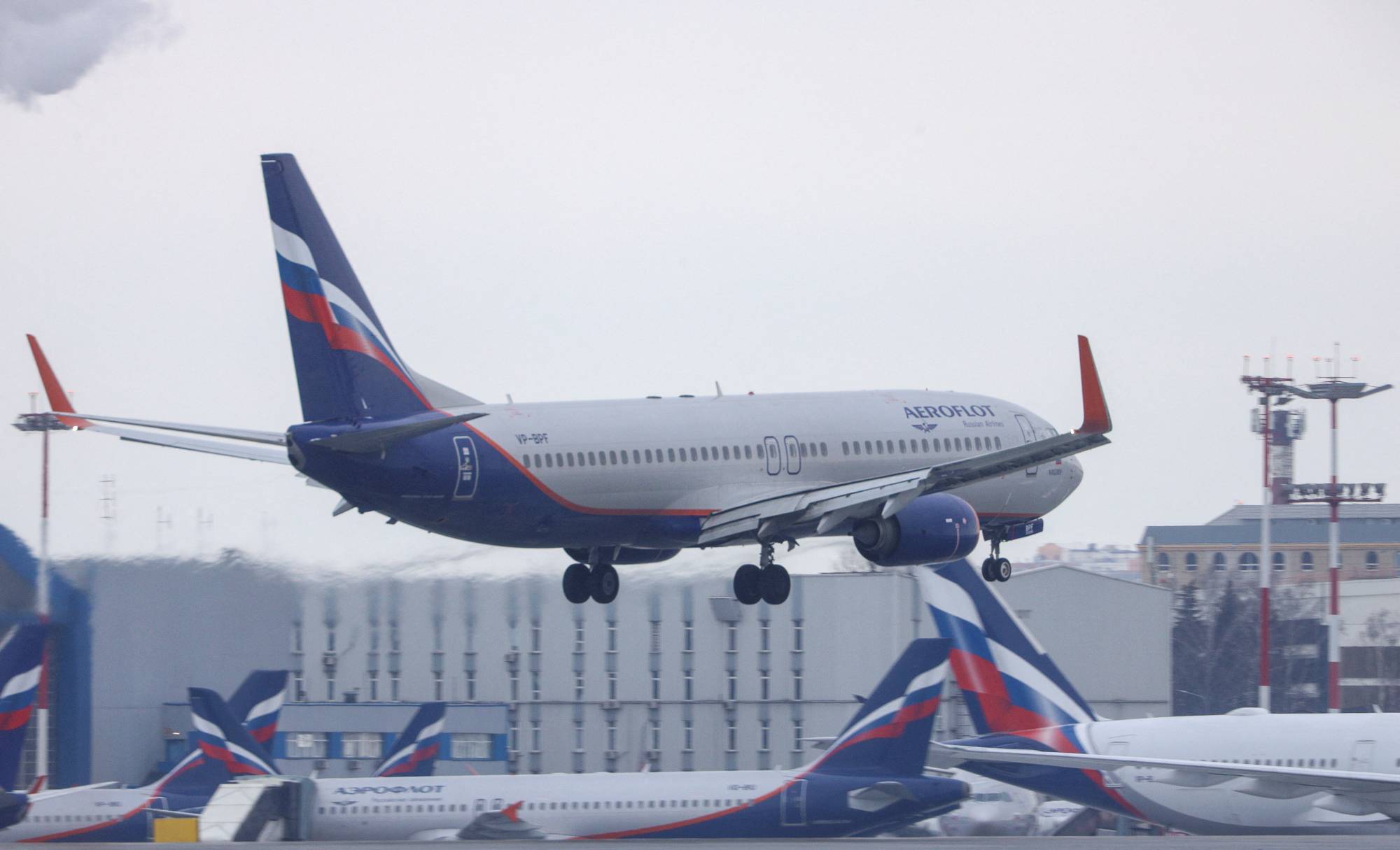 A plane of Russian airline Aeroflot at Moscow International Airport. Photo: Reuters
According to Minister Savelyev, 78 Russian planes have been seized abroad and will not be returned. Russia had 1,367 aircraft at the time of sanctions against Moscow, and nearly 800 of these are now on the Russian registry.
Most of the planes leased by Russia are from Boeing and Airbus, and are registered in Bermuda and Ireland. However, last week, Bermuda and Ireland authorities suspended the issuance of safety certificates to aircraft operated by Russian airlines.
In order to ensure that civil aviation operations are not disrupted, Moscow then passed a law allowing domestic airlines to register aircraft leased from foreign companies in Russia.
Ukrainian city hit by 'super powerful' bombs
Officials in the southeastern Ukrainian city of Mariupol said "two super powerful bombs" detonated and rocked the city on Tuesday, amid ongoing efforts to evacuate civilians.
"Clearly the enemy has no interest in Mariupol. They want to obliterate and flatten the city," the Mariupol council said in a statement, without specifying the loss of life or infrastructure.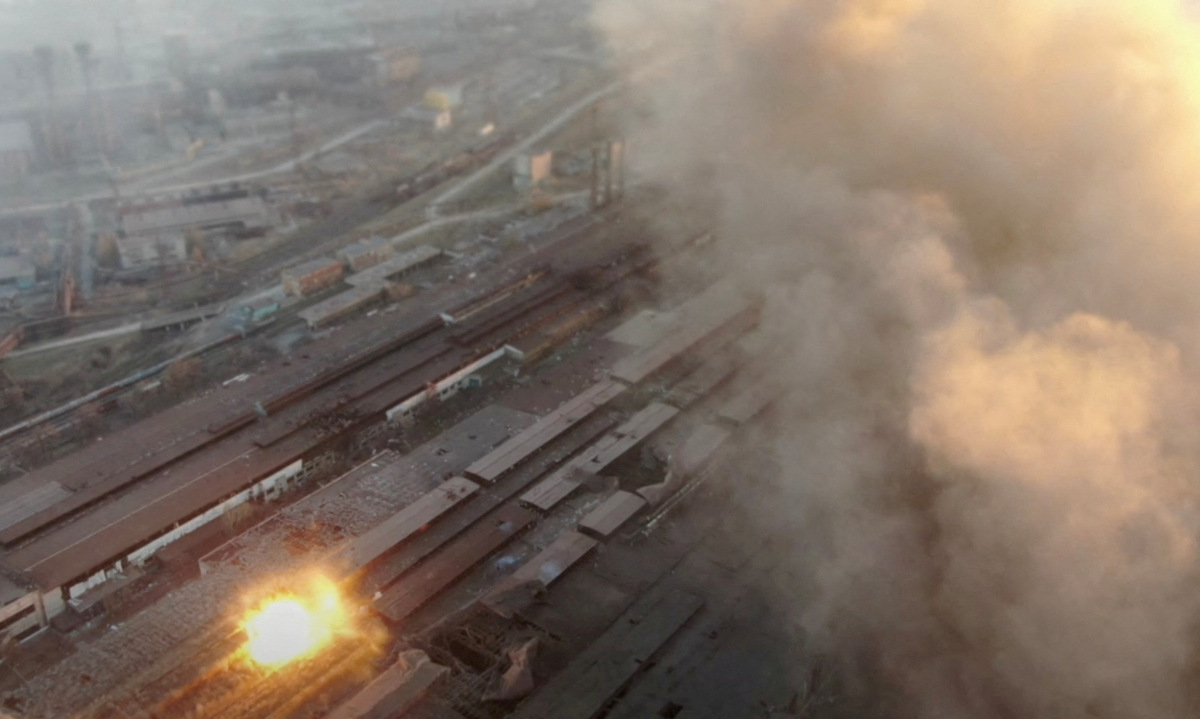 Smoke rises from an industrial area in Mariupol, Ukraine, in this photo released on March 22. Photo: Reuters
Ukraine also criticized Russian forces for obstructing convoys of food and essential supplies to Mariupol, as well as buses carrying people to evacuate. "We demand the opening of humanitarian corridors for civilians. The Ukrainian army is bravely defending the city, we will not accept the ultimatum," Deputy Prime Minister of Ukraine Iryna Vereshchuk previously announced on television.
Mariupol, home to some 450,000 people before the war, has been under near-constant Russian attack since early March. Pictures show the city being severely damaged by bombs and rockets. A US defense official on March 22 warned that Russian troops had appeared inside this city.
Ukrainian officials accuse Russia of using weapons with white phosphorus
In a Facebook post on March 22, Oleksiy Biloshitsky, First Deputy Director of the National Police Service of Ukraine in the Kiev region, accused the Russian military of firing a warhead containing white phosphorus at the city of Kramatorsk, in the Luhansk province of eastern Ukraine.
Smoke rises from a warhead containing white phosphorus fired at the Ukrainian city of Kramatorsk. Video: NEXTA
White phosphorus is often owned by armies of many countries around the world and is legally used in combat, with the effect of creating fog during the day and lighting at night. However, it is illegal to use white phosphorus on civilians, as the chemical can cause severe or painful burns in contact with the skin.
The Russian side has not yet responded to this allegation
US says Russia's goal in Ukraine has 'failed', Moscow reacts
Speaking at the White House on March 22, US National Security Adviser Jake Sullivan said that Russia had failed to achieve its goals in Ukraine.
According to Mr. Sullivan, Russia set three goals when launching special military campaign neighbor: subjugate Ukraine, enhance Moscow's power and prestige, and at the same time divide the West. "So far, Russia has clearly failed to accomplish all three of these goals, but in fact proves the opposite," said the US National Security Advisor.
However, Mr. Sulivan warned that despite signs of slowing down from Russia, the conflict in Ukraine will not end "easily or quickly".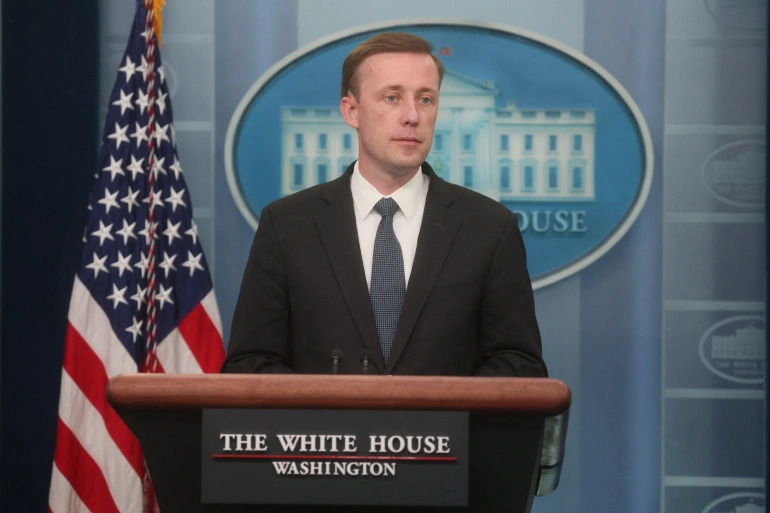 US National Security Advisor Jake Sullivan. Photo: AP
Meanwhile, the leadership of Ukraine's military command said that the Russian forces had only enough fuel, food and ammunition to continue fighting in the country within three days, after the supply chains of the Ukrainian army. Russia is broken.
Moscow later denied the comments from the US and the West, and insisted the operation was still going as planned.
"We are talking about the ongoing special military operation, and it is still proceeding completely according to plan," Kremlin spokesman Dmitry Peskov said in an interview with CNN.
Russia states when it can use nuclear weapons
Also in an interview with CNN on March 22, Kremlin spokesman Dmitry Peskov said that Russia's security policy stipulates that nuclear weapons will only be used in cases where the country's very existence is threatened. .
"We have the concept of homeland security and it's public, you can read all the reasons nuclear weapons are used. So if there is an existential threat to our country, then it can be used according to our concept," Peskov explained in English.
UN calls for ceasefire in Ukraine
United Nations Secretary-General Antonio Guterres on March 22 called for a ceasefire in Ukraine, saying the conflict would "get nowhere".
"The time has come to end this conflict (in Ukraine)," Guterres told reporters at the United Nations headquarters in New York (USA), and emphasized the need to resolve the conflict by peaceful means. jar.
Same day, French President Emmanuel Macron discussed peace talks between Russia and Ukraine, and called for a ceasefire in an hour-long phone call with his Russian counterpart Vladimir Putin. Mr. Macron also expressed concern about the situation in Mariupol, and called for the lifting of the siege of the strategic port city in southern Ukraine.
Macron's office said this was the eighth phone call between the two leaders since Russia launched a special military operation in Ukraine on February 24.
Vietnamese-English
You are reading the article
Russia kept dozens of planes, Ukrainian city was hit by super powerful bombs

at
Blogtuan.info
– Source:
vietnamnet.vn
– Read the original article
here