Thế Giới
READ QUICKLY April 18: Russia attacks heavily, Ukraine can't evacuate civilians for two days in a row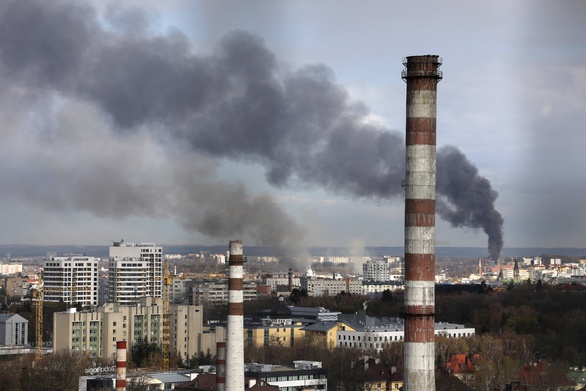 Smoke rises from Lviv after air strikes that Ukraine accuses of being carried out by Russia on April 18 – Photo: REUTERS
* Deputy Prime Minister of Ukraine Iryna Vereshchuk announced that there are no humanitarian corridors to evacuate civilians from war zones in Ukraine on April 18. She accused Russia of being the biggest obstacle to this, having blocked and shelled humanitarian routes, according to AFP.
In the town of Kreminna in the Lugansk region (eastern Ukraine), it was reported that Russian troops had entered the town "with a large number of weapons" causing the evacuation of people to stop.
"The Russian army has entered the Kremlin. Street fighting has begun," Serhii Haidai, head of the Lugansk region military command, announced on Facebook on April 18. CNN quoted.
* Spain will reopen its embassy in Kiev of Ukraine "in the next few days", according to Spanish Prime Minister Pedro Sanchez on April 18. The move comes as a number of Western countries, including France, have announced their intention to reopen their embassies in Kiev. Madrid closed its diplomatic mission in Ukraine on February 24.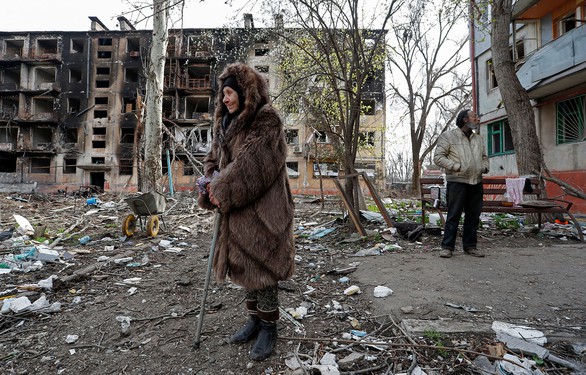 Local residents inside the besieged city of Mariupol, Ukraine April 17 – Photo: REUTERS
* According to the Russian Ministry of Defense on the afternoon of April 18, within the past 24 hours, Russian military attacked 315 military targets across Ukraine, destroying 4 arsenals with Iskander tactical ballistic missiles. Tass news agency quoted a representative of the Russian Defense Ministry as saying that three Ukrainian warplanes and 11 drones were shot down during the same period.
According to Western media, Russia continues to attack the outskirts of Kiev, several cities in western and central Ukraine. At least 6 people were reported killed after Russian air strikes on the city of Lviv on the morning of April 18 (local time).
* Mr. Petro Andriushchenko, advisor to the mayor of Mariupol, said: Russian forces have announced the closure of this city from April 18, CNN reported. He said Russian soldiers have begun to issue travel cards in the city. CNN is currently unable to verify the veracity of this claim.
* On April 17, Kremlin spokesman Dmitry Peskov said he was sure Russia will stand firm in the current confrontation with the Westaccording to Tass News.
Meanwhile, Deputy Chairman of Russia's Security Council, Dmitry Medvedev, warned that Russia's default could lead to hyperinflation in Europe and default on the continent itself. According to Mr. Medvedev, the financial system of the European Union (EU) is not completely stable and the public is losing confidence.
* On April 17, Deputy Chief of the Office of the President of Ukraine, Mr. Ihor Zhovkva, said: Kiev has completed the necessary questionnaire for review by the European Union (EU)., decide on membership for the country. Mr. Zhovkva hopes Ukraine will get candidate status for EU membership next June, Reuters news agency reported.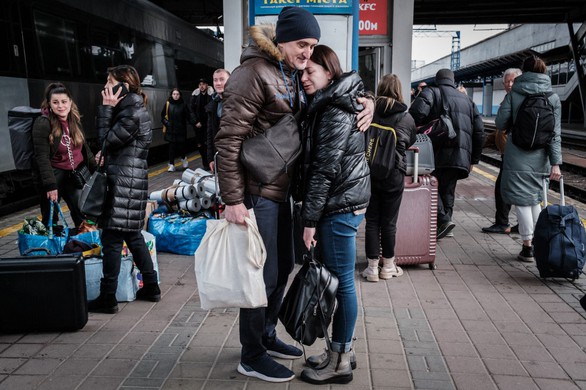 A man named Ihor (left) greets a woman named Lyudmila who has just returned from Poland on a night train, as they stand at the Kiev-Pasazhyrskyi train station in the Ukrainian capital Kiev on April 17 – Photo: AFP
* On CNN on April 17, Ukrainian President Volodymyr Zelensky has stated that Ukraine is not ready to give up territory in the east of the country to end the war with Russia.and that Kiev is readying a stiff resistance in the face of any impending large-scale offensive in eastern Ukraine.
Zelensky said that the fight for control of the Donbass region in eastern Ukraine could shape the entire outcome of the war. Ukraine's President warned that Russia may try to capture Kiev again if it captures Donbass.
* On April 17, Prime Minister of Ukraine Denys Shmyhal announced The strategic port city of Mariupol in the southeastern part of the country has "not yet fallen" and Ukrainian forces defending the city against a Russian attack will "fight to the end.". His statement came hours after Russia's ultimatum – demanding the surrender of Ukraine's remaining defensive forces in Mariupol – lapsed.
Reporting from the Russian capital Moscow, Al Jazeera correspondent Dorsa Jabbari said Russian officials have not made any public comment after the deadline for the surrender of Ukrainian forces in Mariupol had passed. The Russian Defense Ministry set a deadline for Ukrainian soldiers still entrenched in the Azovstal steel plant in Mariupol to lay down their weapons and leave from 6 am to 13 pm on April 17 (local time).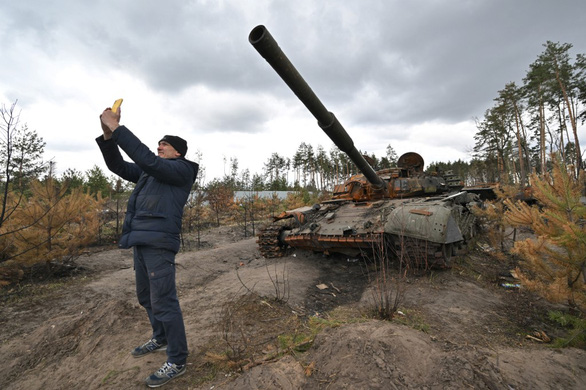 A man takes a selfie in front of a destroyed Russian tank in the village of Andriivka in the Kiev region of Ukraine on April 17 – Photo: AFP
* The Pope urged leaders to "listen to the people's call for peace". According to AFP news agency, during the Urbi et Orbi Plenary Blessing on Sunday, April 17, in front of 50,000 people in St Peter's Square in the Vatican, Pope Francis said: "There is a need to stop flaunting strength while the people of the country stop. are suffering".
* In an interview with CNN broadcast on April 17, Ukrainian President Volodymyr Zelensky said in a recent remote exchange, he invited French President Emmanuel Macron to visit Ukraine to witness firsthand evidence of what Russian forces have done.
President Zelensky said he also thinks US President Joe Biden will visit Ukraine at some point, although White House officials have said Biden has no plans to make such a trip.

* Russia asserts that Europe will lose when sanctioning the Russian Federal Space Agency (Roscosmos). Dmitry Rogozin, chief executive officer of Roscosmos, said that Europe will suffer even more due to sanctions against Roscosmos – the agency that has a "long history" of sending astronauts to space.
"Cooperation will be resumed in one way or another, but the focus will change. Because now we will cooperate first with countries that are constructive or neutral. After the tension subsides, those who impose sanctions will have to discuss with us the conditions we offer," Rogozin said in an interview with Belarusian TV channel ONT on April 17. .
* According to Reuters news agency, Oleh Synehubov, head of the Kharkov region, said: Kharkov city center and Saltivka suburbs were shelled on April 17, destroyed apartment buildings and left at least 5 dead and 20 injured.
* On April 17, Ukrainian President Volodymyr Zelensky said he had discussed with the Director General of the International Monetary Fund (IMF) Kristalina Georgieva on the issue of ensuring financial stability for Ukraine and the preparation for the reconstruction of the country. after war. "We now have a clear plan and a vision of the prospects. I am sure the cooperation between the IMF and Ukraine will continue to be successful," he said.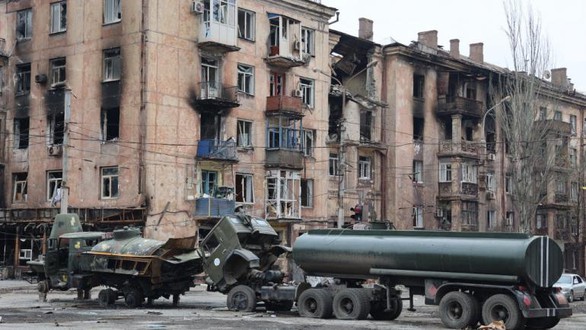 A housing complex in the city of Mariupol on April 16. Russia has issued an ultimatum to "give up or die" for Ukrainian soldiers in this fierce battle – Photo: AFP
* According to Russia's Tass news agency, on April 17, Russian Defense Ministry spokesman Igor Konashenkov said that in the past 24 hours Russia's missile and artillery forces hit 113 Ukrainian military targets, in the past 24 hours. There are 4 army control centers, 4 artillery batteries, 2 fuel depots…
Konashenkov said that since the start of the military operation in Ukraine on February 24, the Russian armed forces have destroyed 136 combat aircraft, 471 drones, 249 air defense systems, 254 systems missile launchers, 2,308 tanks and armored fighting vehicles… of Ukraine.
You are reading the article
READ QUICKLY April 18: Russia attacks heavily, Ukraine can't evacuate civilians for two days in a row

at
Blogtuan.info
– Source:
tuoitre.vn
– Read the original article
here