Thế Giới
Mr. Macron "attacked" the relationship between Ms. Le Pen and Russia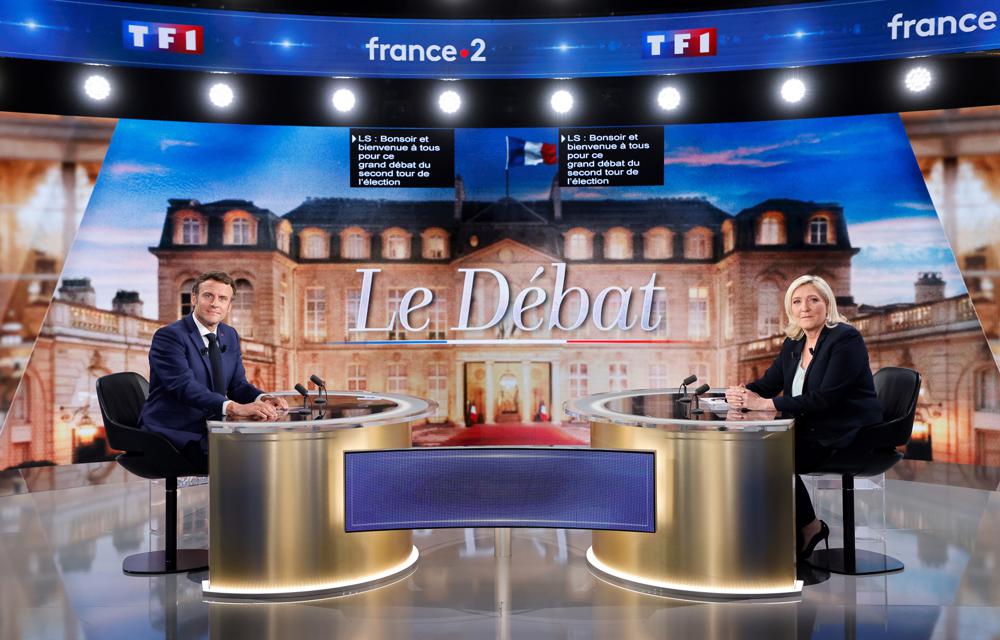 During the debate that took place at 9pm on April 20 local time (ie 2am on April 21, Vietnam time), Mr. Macron launched his "attack".
He argued that a loan received by Le Pen's party in 2014 from the Russian-Czech bank (FCRB) made her unfit to negotiate with Moscow.
In addition, he also said that Le Pen's plan to ban Muslim women in France from wearing the hijab in public would cause "civil war" in the country with the largest Muslim population in Western Europe.
In the opposite direction, Ms. Le Pen called for support from voters struggling with high prices amid the complicated developments of Russia's campaign in Ukraine. She said reducing the cost of living would be a top priority if she was elected president. Besides, she also identifies herself as a representative of voters who cannot make a living.
Ms Le Pen said Mr Macron's presidency had left the country deeply divided. She repeatedly mentioned the "Yellow Vest" protest movement that rocked Mr. Macron's government before the Covid-19 pandemic.
"France needs to be brought together," she stressed.
The intense debate has more clearly portrayed the differences in political views and personalities between the two candidates.
Polls show Mr Macron, a pro-European, in the lead. But the results are expected to be closer than five years ago as both candidates battled for votes among the electors who did not support them in the first round of the April 10 election.
"I'm not like you," Le Pen said as the two argued about France's energy needs.
Mr. Macron replied: "You're not like me. Of course, thanks for the reminder."
The French leader was particularly scathing in his criticism of a $9.8 million loan Le Pen's party received in 2014 from the FCRB. Mr. Macron argued that because of this debt, Le Pen would be extremely affected if she had to conduct any negotiations with Russian President Vladimir Putin, should she win on April 24.
"Mrs Le Pen cannot defend French interests because her interests are closely related to Russia's," Macron said.
"Mrs Le Pen depends on Russia's strength and on President Putin," he stressed.
Le Pen infuriated Mr. Macron's arguments. She describes herself as "completely liberal" and says Mr Macron "knows well what he says is wrong".
Ms Le Pen said her party was paying off the loan and called Mr Macron "dishonest" for raising the issue. Le Pen repeated what she had said before: That her party had to turn to the FCRB after French and European banks refused to lend money. The loan has stuck with her far-right party for years, along with her relationship with President Putin.
Ms Le Pen is trailing Mr Macron in the polls, so her goal is to "deal a big blow" in the debate, but she's off to a bad start. Chosen to speak first, however, she failed to take advantage of it.
As the conversation began, Mr. Macron quickly put Le Pen on the defensive. The incumbent president took aim at Le Pen's vote as a legislator and questioned her about her grasp of economic data.
Ms. Le Pen appeared most comfortable talking about topics that have long been central to her political views, as well as her appeal to far-right voters: Combating "nothingness" government, immigration and crime".
Although a powerful orator, Ms. Le Pen sometimes has difficulty with language and fluency. Also in this campaign, she has sought to soften her image and remove the radical label that critics have long attached to Le Pen and her party.
In contrast, Mr. Macron appeared exceptionally confident in himself, sometimes appearing arrogant – a trait his critics have emphasized. He sat with his arms crossed as he listened to Le Pen speak.
Macron took the lead from the first round on April 10. But Le Pen, who has won many votes this year by exploiting public anger over inflation, has significantly closed the gap compared to 2017, when she lost with 34% of the vote to 66% of Macron.
Both candidates still need to expand their support ahead of the April 24 vote. Many French, especially leftists, say they still don't know if they will vote.
You are reading the article
Mr. Macron "attacked" the relationship between Ms. Le Pen and Russia

at
Blogtuan.info
– Source:
danviet.vn
– Read the original article
here