Thị trường
Close to the holiday of April 30, the tour to Phu Quoc "cools down" by millions of dollars per person for unexpected reasons
April 29, 2022 14:56 GMT+7
Thinking close to the holidays of April 30 and May 1, hotels are full, prices will increase and it is difficult to book, but who would have thought, many places would launch tour prices cheaper than before, down to 30-40 %, there are places where the room price is only 1 million VND/person
Some places sell on behalf of guests because of force majeure, do not travel on the set holiday, there are many places that need to be liquidated to recover capital … so close to the holiday, thought that the tour was on fire, sold out, and then appeared again. Currently, there is a paradoxical story, many places are selling urgently, liquidating and discharging hotel rooms and villas in Phu Quoc with cheaper prices than before.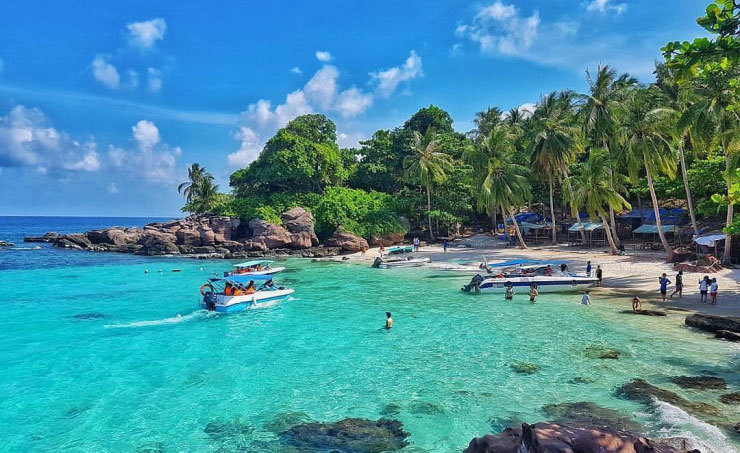 Close to the holidays of April 30 and May 1, the combo tour to Phu Quoc includes flight tickets and hotels and villas with a 'cool down' price, reducing millions of dollars per person….
For example, a tour to Phu Quoc, some combos including air tickets and 2 nights at a 4-star resort in Phu Quoc for the period April 30 to May 2 are being sold by many places for only 4,790,000 – 4,890. 000 VND/person. Or combo plane and stay at a villa, with a private swimming pool on the occasion of April 30 to May 2, costing more than 5 million VND/person.
At Premier Village Resort Phu Quoc, there is a place selling a 3-room villa from April 29 to May 1 for 5.5 million VND/night. Or the villas on the sea front, with 4 rooms, the price is only 7 million VND/night….
Share with PV Infonet, Ms. Nguyen Thi Anh Tuyet, Deputy Director of Vietchill Travel Co., Ltd. said that these days, both plane tickets and hotels in Phu Quoc are "cooling down" a lot. The plane ticket to the right holiday is just over 2 million VND/person for a round trip ticket, plus the hotel fee is also about more than 4-5 million VND per person for a few days tour.
"Before the Lunar New Year, the situation of 'burning' rooms is very much, so guests planning to go out on the occasion of April 30 and May 1 often book very early. Therefore, up to this point, many travel companies have "hugged" the hotel room fund in Phu Quoc too much but have not sold it all, forcing them to "discharge" to sell at very "soft" prices to recover capital. .
If before, the tour to Phu Quoc had to be over 6 million VND/person including airfare and hotel, now the price is just over 5 million VND, about 20-30% cheaper, "said Ms. Tuyet.
In addition, although the weather during the holidays of April 30 and May 1 is forecast to have rain in many places, the tropical depression at sea may strengthen into a storm, but Ms. Tuyet said that there is still no weather at this time. The phenomenon of guests canceling tours because of bad weather, with tours that have a schedule to the island, if affected by bad weather, they will change direction to visit on the shore, but not cancel the tour. Only a few customers who could not go due to force majeure asked to sell on their behalf, but this number is not much.
Ms. Dieu Lan, who specializes in selling tours, also said that up to this point, there has been no phenomenon of customers canceling or postponing the tour. Only some groups of guests because someone in the group had Covid, they asked to liquidate the hotel room for them.
According to Ms. Lan, for those who have not booked anywhere, now there are still many opportunities to book to Phu Quoc at a cheaper price than before because currently both the airfare and the hotel room price in Phu Quoc are increasing. drop' to about 30-40%. Agents "hug" many room funds, air tickets now have to enter the customer's name, so they are forced to lower the price and sell liquidation.
There was no phenomenon of guests canceling or postponing the booked tour, but in the itinerary that had a schedule to visit the islands, there was a change in direction due to the forecast of bad weather at sea.
For example, in Ly Son, Quang Ngai, there are hotels that have canceled 30-80% of the rooms booked during this holiday.
Share with PV Infonet, Mr. Tran Minh Khanh, Director of Dai Duong Hotel in Ly Son (Quang Ngai) sadly said: Our hotel has a total of 34 rooms, serving about 120 guests and guests have booked their rooms since the 29th of this month. 4 to 2/5. However, guests canceled up to 80% of the rooms booked on May 1 and 2; On April 29 and 30, guests also canceled up to 30% due to the customer's anxiety about the weather, which is forecasted to be windy, stormy, and afraid to go by train.
"This number also causes damage to the hotel because after 2 years of the epidemic, it has to be closed, now guests have the opportunity to go out, but due to the influence of the weather, customers cancel, the hotel can not force guests. and must be flexible to support. The hotel refunds 100% of the deposit to the guest to keep its reputation; I hope that on another occasion guests will remember and stop by my hotel," Mr. Khanh said.
Laureate
You are reading the article
Close to the holiday of April 30, the tour to Phu Quoc "cools down" by millions of dollars per person for unexpected reasons

at
Blogtuan.info
– Source:
infonet.vietnamnet.vn
– Read the original article
here