Giải trí
13 anti-virus apps you should remove immediately-Information Technology
As Cybernews reports, many anti-virus apps on Android contain trackers and link to potentially malicious websites.
If you are unsure about which applications you download or the links you click, you can install anti-virus software to prevent suspicious activities to some extent. However, like any other application, anti-virus software will also consume resources and drain your phone's battery.
Besides, not all anti-virus software works as advertised. In 2019, a survey by AV-Comparatives found that quite a few antivirus software failed to detect malware on phones. These software only display a virus scanning progress bar, but in fact they have no effect.
Specifically, the researchers examined the 40 highest-rated antivirus and phone cleaner apps on Google Play, all of which have been downloaded more than 918 million times. The results showed that only 2 of the apps did not contain any trackers, while 6 of the apps contained potentially malicious links.
Thirteen of them were rated as poor quality because of the problematic code.
Antivirus application Keep Clean Cleaner, Antivirus reached 54/100 points, topping the ranking. Meanwhile, Safe Security – Antivirus, Booster, Phone Cleaner and Nova Security – Virus Cleaner are at the bottom of the table with scores of 9 and 10, respectively.
When it comes to apps that contain malicious links, Dr. Capsule Antivirus, Cleaner is the worst, with 3 potentially malicious links. Other apps like GO Security – Antivirus, AppLock, Booster and Virus Hunter 2021 Virus Scanner and Phone Cleaner contain 2 malicious links.
As for the trackers, Nova Security – Virus Cleaner is the most dangerous with 30 trackers, the next positions belong to Fancy Booster – Cleaner, Antivirus & Speed ​​Up and Antivirus, Virus Cleaner, Booster – Fancy security.
After receiving the Cybernews report, only one developer responded to the request. Specifically, Dr. Capsule claims that the confusion between http and https caused the app to be flagged as potentially malicious by mistake.
The researchers note that the total number of installs shows that users Android usually want to protect the phone from malware, and care about cleaning and speeding up the device.
"Less tech-savvy users have the ability to download an app to do all this tedious work automatically. However, free apps often come bundled with trackers, data collectors…", the report notes.
To ensure the safety of the phone, users should only use well-known anti-virus applications, for example, Avast, Norton, Bitdefender, Google …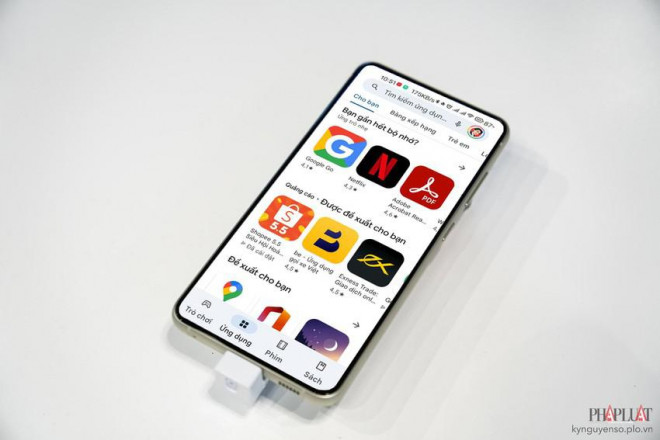 Be careful before installing Android apps. Photo: Tieu MINH
Steps to protect data on your phone
Installing anti-virus software on your phone is not an effective solution. Instead, users should exercise caution when downloading apps or clicking on dubious links.
First, you should only download apps from Google Play, not install apps (as .apk) through third-party stores. Of course, the apps on Google Play aren't 100% secure, but they've also been thoroughly tested.
Not long ago, security researchers discovered more than 20 apps on Google Play infected with Joker malware, and of course this is not the first time.
Besides, users should also regularly update software and operating system to the latest version. In addition to fixing vulnerabilities, patches also help improve device performance.
Here are some ways to help you stay safe while using your phone:
– Do not download apps from third-party stores, or install crack software.
– Scrutinize app permissions when they ask for it.
– Limit clicking on links attached in emails or messages, even if they are sent from friends, relatives… To ensure safety, you should use VirusTotal services to check links link before clicking.
– Regularly update security patches (if any).
You are reading the article
13 anti-virus apps you should remove immediately-Information Technology

at
Blogtuan.info
– Source:
24h.com.vn
– Read the original article
here