Văn hóa - Giải trí
Comedian Chien Thang: "U23 Vietnam won the gold medal at the 31st SEA Games, giving me a great feeling"
Instead of "storming" to celebrate after the victory of U23 Vietnam after defeating U23 Thailand in the final of men's football at the 31st SEA Games, comedian Chien Thang chose to cross a distance of more than 45 km from Hanoi to Hanoi. back home in Vinh Phuc in the middle of the night. Feelings of pride and joy are intertwined with the male comedian's eyes, smile and every sentence he says when talking to PV.

Vietnamese people.
"I had a hunch that U23 Vietnam won U23 Thailand"
Is the victory of Vietnam U23 in the final of the 31st SEA Games men's football match with the original prediction of comedian Chien Thang? How do you feel when U23 Vietnam won U23 Thailand and won the gold medal at SEA Games this time?
– The victory of U22 Vietnam gives me a great feeling. This is a match with a strong spirit of colors and colors when there are almost no gaps in My Dinh Stadium. From love of football to patriotism, the solidarity of Vietnamese people is shown. Indeed, having experienced nearly "50 pots of banh chung", this is the first time I have come to My Dinh Stadium to join the "sea of ​​people" in the exciting football atmosphere, filled with elated and proud emotions.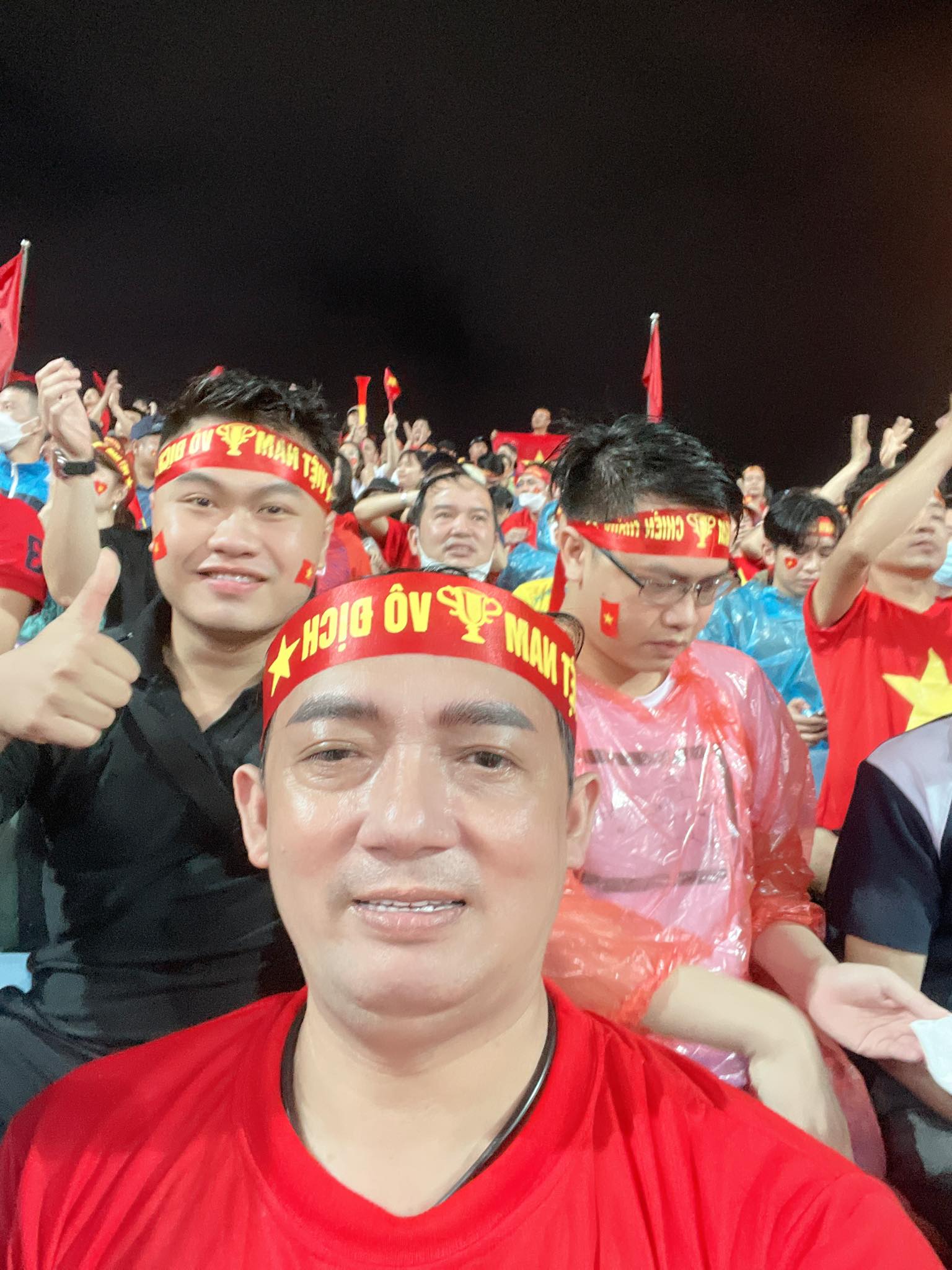 The reason he directly went to My Dinh Stadium to cheer for Vietnam U23 in 31st SEA Games men's soccer final Is it because the opponent is U23 Thailand?
– There were many successful generations of players before U23 Vietnam won the gold medal at the 31st SEA Games. When I couldn't watch live, cheering for the Vietnamese team because of work, I regretted it! However, when the Vietnamese women's team won the 31st SEA Games gold medal after defeating the Thai women's team at Cam Pha Stadium, it made me extremely proud.
I am happy when people love football for both men's and women's football teams in Vietnam. This shows that the interest, encouragement and encouragement given to Vietnam's "diamond girls" is not inferior to U23 Vietnam. The image of stadiums full of seats, fans excitedly cheering even though the home team was not competing, prompted me to definitely be present to watch the 31st SEA Games men's football final at the US Stadium. Dinh on last night (May 22).
To get a ticket to watch the match live final U23 Vietnam – U23 Thailand Did you have any difficulties at My Dinh Stadium?
– Thanks to a brother from the same hometown of Vinh Phuc, I got a ticket to cheer for Vietnam U23. This is also something I have wanted to experience for a long time, but only now have I been able to do it.
Present at My Dinh Stadium early, I sat on stand C, the rain team made me wet like rats, but I and thousands of fans still felt excited and happy.
I don't know how everyone feels, but in me every time the Vietnam men's football team faces Thailand, it's a tug-of-war, worth watching.
When our team wins, it brings a very different feeling that is hard to describe. Perhaps because of the history of confrontations between the two football teams of Vietnam – Thailand before when we had failed to defeat them many times. Currently, they have to be behind us both in terms of the men's football team and the Vietnamese women's team.
Clip: Comedian Chien Thang shares with Dan Viet after U23 Vietnam won the gold medal at the 31st SEA Games. (Clip source: NVCC for Dan Viet)
When watching the match U23 Vietnam – U23 Thailand played during the first half with no goals scored for both teams, were you "impatient", "wait"?
– I still have a hunch U23 Vietnam will win the SEA Games 31 men's soccer final, defending the SEA Games gold medal. Although the first half of both teams U23 Vietnam – U23 Thailand still kept the score 0 – 0 but in my heart I firmly believe that coach Park Hang-seo's teachers and students will win.
The header of player Nham Manh Dung in the second half made me and the audience watching at My Dinh Stadium burst with emotions. It is admirable that throughout this SEA Games, Vietnam U23 is unbeaten, not conceding a single goal.
I see in the young players effort, confidence and quite sure even though there are members attending the SEA Games for the first time.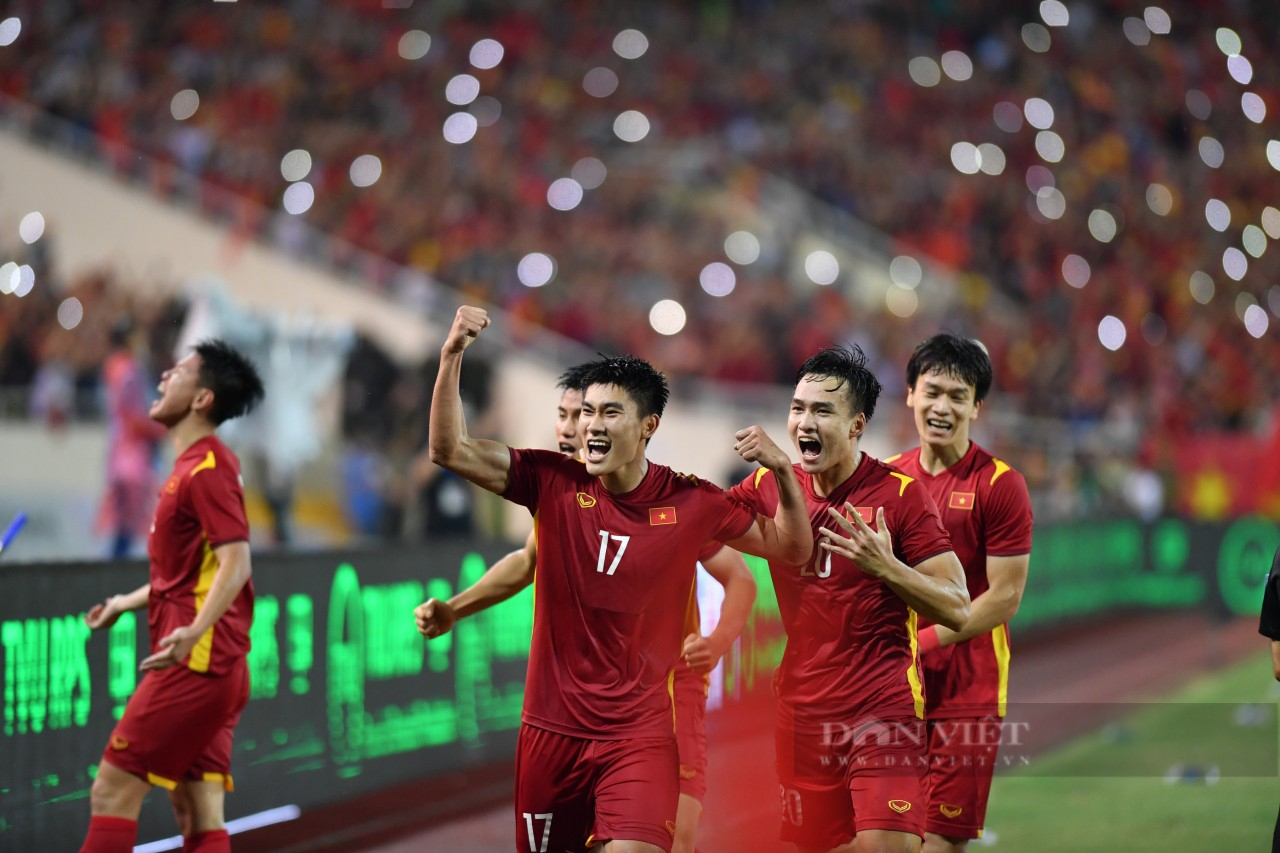 Don't criticize Tien Linh for taking off his shirt to celebrate
How do you evaluate the role of 3 "elder" players Tien Linh, Hoang Duc and Hung Dung when they accompany the "junior" generation at this SEA Games?
– U23 Vietnam is a collective and each individual contributes to the success of the whole team at the 31st SEA Games. The influence of 3 players Tien Linh, Hoang Duc and Hung Dung is undeniable. They are mature, experienced seniors and create cohesion for U23 Vietnam.
I think Coach Park Hang-seo must be very hesitant to choose these three players to join the U23 Vietnam team. I was impressed with Hung Dung's personal breakthrough in the final U23 Vietnam – Thailand. Surely that situation had "fired up", helping the home team players to be more confident and rolling.
Besides, I like the player Hoang Duc. In this player, I see that there is a shadow and dribbling technique like Quang Hai that brings confidence, certainty, and breakthrough to every match of the home team. The proof is that every time Hoang Duc has the ball, the Thai U23 players seem to be confused, forced to focus on "taking care", even fouling this player.
OLDO opinion that, player Tien Linh suffered psychological damage after taking off his shirt to celebrate in the previous semi-final match of U23 Vietnam – U23 Malaysia. This caused Tien Linh's performance to decrease more or less and could not score in the final of U23 Vietnam – U23 Thailand. What is the opinion of comedian Chien Thang?
– Not every match Tien Linh has to score. Tien Linh himself is not a machine that is programmed to score in each match of U23 Vietnam in particular and the Vietnamese men's football team in general.
Regarding Tien Linh's act of taking off his shirt, I don't think he should be criticized. I think it's a relief after a lot of pressure on the players and the whole team in the "difficult" match against Malaysia U23.
In foreign countries, it is not uncommon for players to have taken off their shirts to celebrate similar to Tien Linh. Therefore, instead of criticizing the players' psychology, we should cheer and encourage them to express themselves.
The same goes for artists, when we go on stage, we also need the encouragement and support of the audience. If there is a mistake, there is a coaching staff, Coach Park Hang-seo will only tell them professionally.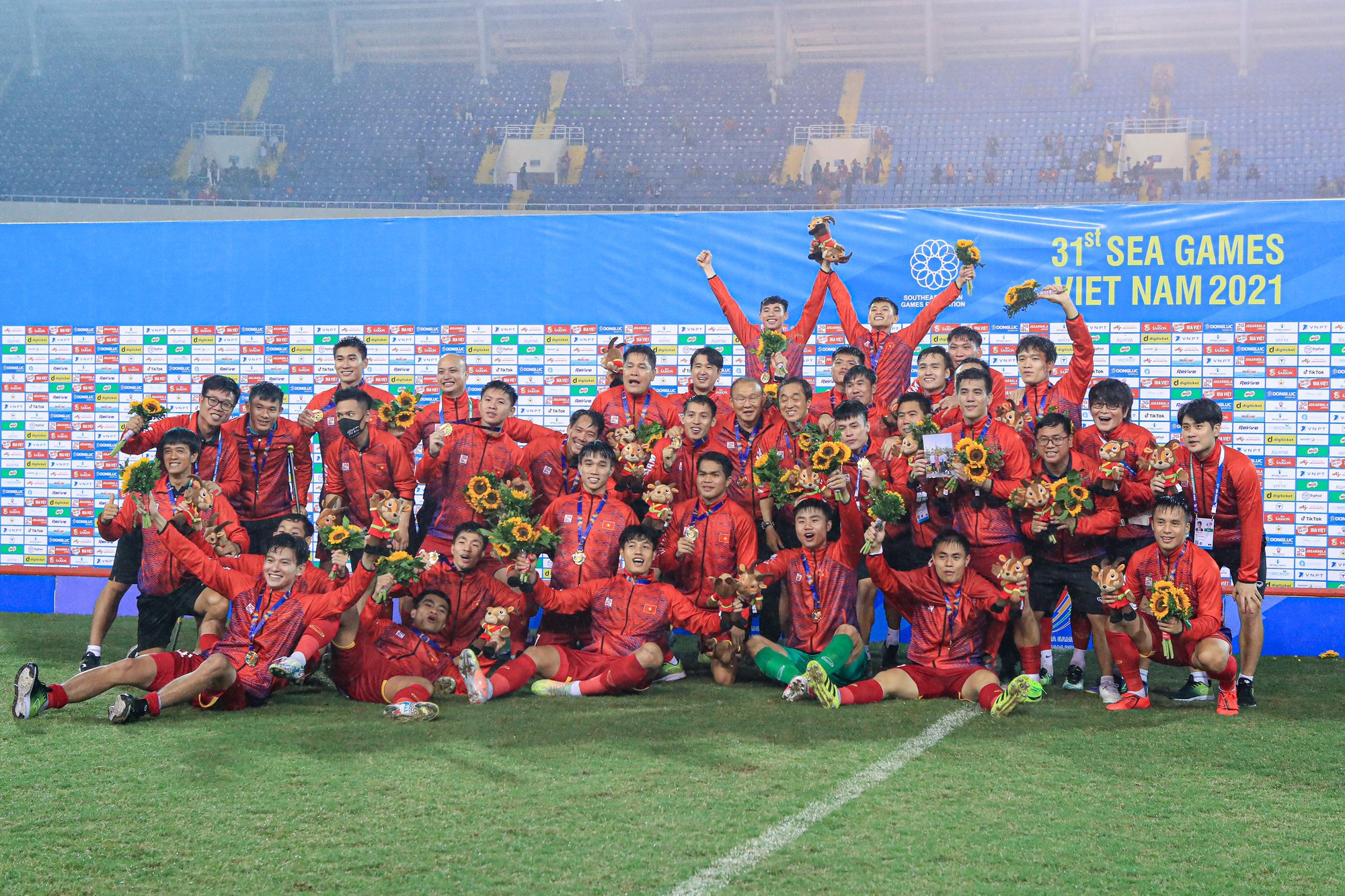 Impressions of the 31st SEA Games in Vietnam
Coach Park Hang-seo once admitted that he was under a lot of stress on the way to defend the SEA Games gold medal. What does the image of Coach Park Hang-seo sitting quietly in the technical cabin, holding his head and crying before entering the field to celebrate the victory with his students?
– Coach Park Hang-seo as well as coach Mai Duc Chung are people with a heart and a vision for Vietnamese football. Especially since the Korean coach led the Vietnamese team, he has helped Vietnamese football achieve remarkable achievements.
His every action and gesture towards his students shows his love and protection for Vietnam's players like a father to his children. Coach Mai Duc Chung and the Vietnamese women's team are the same. Their teachers and students make me feel like this is a football team of loved ones in the family.
Another point that makes me very respectful in Coach Park Hang-seo is his humility. Although the Vietnamese football team is superior to its competitors, his sharing always has a certain respect for them. He admitted his fault on behalf of his students and constantly encouraged them before and after each match.
On the eve of the closing ceremony of the 31st SEA Games taking place at the Hanoi Athletics Palace at 8 pm today (May 23), what do you think makes the mark of the SEA Games held in Vietnam this time?
– In addition to the efforts and achievements of athletes and players that the Vietnamese sports delegation has achieved at the tournament. SEA Games 31, I think the fans with their love of sports, cheering passionately even when they are not the home team, have made a special impression. It is Vietnam's fans who have created a beautiful image of Vietnam in the eyes of international friends.
Thank you comedian Chien Thang for sharing the information!
Before the final of the 31st SEA Games men's football, comedian Chien Thang impromptu wrote a poem to cheer up the spirit of U23 Vietnam:
"With Thai, you have to fight first
I'll score a goal first, then I'll buy time
Play pressing all over the field
Don't let them have any free time
Must always attack
And put pressure in and out often
The finishing touch must be prioritized
Don't squander it or you'll run out of money!
I have the home field advantage
Add the audience and we win!
Be determined, guys!
Win to make sure the "king" throne!
You are reading the article
Comedian Chien Thang: "U23 Vietnam won the gold medal at the 31st SEA Games, giving me a great feeling"

at
Blogtuan.info
– Source:
danviet.vn
– Read the original article
here