Thế Giới
US school shooting: 'Buying a gun was the first thing he did when he turned 18'
Tears of parents at Robb Elementary School in Texas, USA after the shooting on May 24 – Photo: Reuters
The tragedy happened at Robb Elementary School in the small city of Uvalde, in the south of Texas, at noon on May 24, or midnight on May 25, Vietnam time. This is the deadliest school shooting in 10 years in the US. The assailant was shot down.
It's easier to buy guns now than it is to buy baby formula. That's unbelievable in the country we live in.
American basketball player DAMION LEE said on CNN, referring to the crisis of milk powder shortage in the US.
"The first job at the age of 18″
Police still don't know why 18-year-old Salvador Ramos opened fire on students at Robb School. They only know that he shot and injured his grandmother and then drove to a school with 500 students from 7 to 10 years old studying and committed the crime.
19 students were shot dead and 2 teachers were killed trying to protect them. Ramos was shot dead on the spot by the response force. The local hospital said it received nearly 20 injured students and adults, some in critical condition. The incident happened just two days before the school year ended on May 26.
According to Senator Roland Gutierrez of Texas, Ramos carried a military-style rifle he bought for his birthday. "Buying a gun was the first thing he did when he turned 18," Gutierrez said. CNN quoted the Texas Department of Public Safety (DPS) as saying that authorities approached Ramos as soon as they saw him get out of the car with the gun, but he still managed to get into the school.
Initial information indicated Ramos was wearing a bulletproof vest and had previously hinted on social media about the attack.
Parents flocked to the school upon hearing the news, many breaking down when asked to provide DNA samples. In pain and anger, many questions have been raised: How did the perpetrator get through the school's security fence? Why does he have a gun so easily?
"We knew the next tragedy would happen because we didn't do anything to change it," said Fred Guttenberg, a father who recently lost his daughter at Robb School.
Many politicians are extremely upset. "It's not inevitable, it's not that these kids are unlucky. It's only happened in this country, not elsewhere. There's nowhere where kids who go to school every day think that they're going to be shot," Senator Chris Murphy said emotionally in front of the US Congress as he called for his colleagues to act.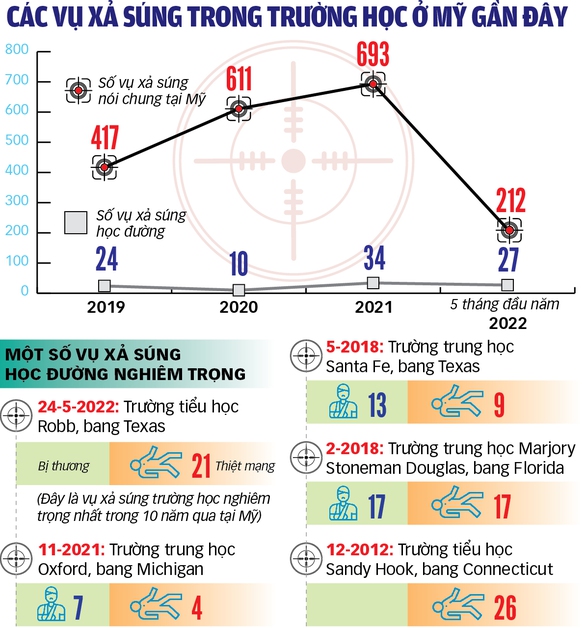 Source: Education Week, Gun Violence Archive, USA Today – Data: Tran Phuong – Graphics: TUAN ANH
"Translating" gun violence
In his speech later, President Joe Biden urged people to pressure US congressmen to pass gun legislation. "It's time to put pain into action for every parent, every citizen of this country. We must make it clear to the elected officials in this country that it's time to act," Biden said. speak.
The US president has criticized gun lobbying for thwarting efforts to tighten arms control laws. Former President Barack Obama has also responded to Mr. Biden's call.
The "epidemic" of gun violence is killing thousands of people each year in the US and is on the rise. American politicians are well aware of the loopholes in the country's gun laws, but the Biden administration has remained powerless to pass background checks on gun purchases or other related bills.
Hours after the Texas shootings, Democratic senators have pushed ahead with a roadmap to vote as early as May 26 on a bill to tighten background checks for gun buyers, which has already been passed by the House of Representatives. past before.
According to the newspaper New York Timesthe bill would expand criminal background checks on gun buyers on the Internet and at gun shows, and extend the time it takes to license these people to the FBI to investigate. more.
But according to observers, it is very unlikely that the bill will receive at least 10 votes in favor of Republicans to pass the Senate. Many Republicans argue that America needs to do more to end mental illness, which can cause some people to shoot, instead of gun control.
You are reading the article
US school shooting: 'Buying a gun was the first thing he did when he turned 18'

at
Blogtuan.info
– Source:
tuoitre.vn
– Read the original article
here