There are still people going stilts on the sea
Before returning to Nghia Thang, we were introduced: here is Quan Vinh village famous for its craft walking on stilts (known in the profession as going on stilts) to scratch clams and catch shrimp, clams, and small fish.
Mr. Nguyen Van Tung, who has been attached to the profession of stilts since childhood, said: "The profession of stilt walking in Nam Dinh from the life of my forefathers. In the past, the means of fishing and fishing were rudimentary and simple, so it was often difficult to go fishing. Every house is poor, so they cannot afford to build boats.
Not to mention, Nghia Hung district is located right at the mouth of the river flowing into the sea, the water level is not deep enough for ships to operate, so the stilts are the most flexible sailing tool. With extended legs, Quan Vinh people can catch fish and shrimp even in places 3-4m deep, limit the need to soak in salt water all day, can easily deal with mud flats and bottom. the sea is full of troubles…
Today, there are modern ships and boats, stilts are no longer commonly used for fishing, but in some places fishermen still take advantage of this method. Recently travel As the sea in Nam Dinh develops, some people are suggesting that fishermen use stilts to catch fish to attract tourists, as a feature. cultural featured".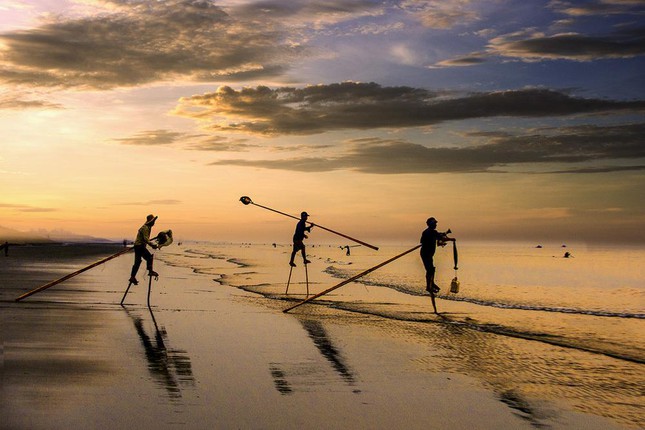 According to Mr. Tung, the profession of walking on stilts is not only found in Quan Vinh, it is common in most coastal districts in Nam Dinh. Men in the sea know how to walk on stilts from a young age, women and children here are also very proficient in stilts.
Currently, fishing boats are too much, the popularity of stilts is also shrinking. Tung himself also quit his job to open a restaurant selling seafood. However, in Quan Vinh, many fishermen are still used to going to sea on stilts, because this means of transport is suitable for fishing in shallow seas, many shoals are mobile, compact and less expensive than ships and boats. .
The next day, to Hai Trieu, Hai Hau, we were introduced to Mr. Nguyen Van Tam, captain of Hai Trieu commune's stilt team. Mr. Tam said that in the past, young people in the commune 100% knew how to walk on stilts, when they were children, they followed their fathers to the sea to shovel shrimp, when they were older, they went further to catch small fish.
Fast learners can walk in about a month. Good walkers can control a 3-4m long stilt, but on average a stilt tree will be about 1.5-2.5m high. The highest level of stilts is 4.8m, which was recorded in the Vietnam Book of Records (July 2005).
The stilts body is made of perennial male bamboo, which is straight, solid, and has good bearing capacity. After a period of soaking in the pond mud and being steamed with soot on the kitchen floor to eliminate termites, only the tough but supple bamboo bones are brought out to make stilts.
On the body of the stilts there is a pedal for placing the foot. The stilt-walker must use a ring called a hamstring compression with a good elastic foot to fix the knee with the body of the stilt to prevent being knocked over by the waves.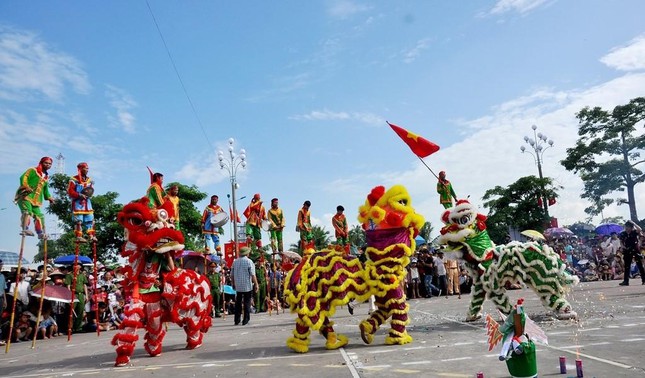 Performing on stilts in the festival
For Mr. Tam, both before and now, walking on stilts is a job to earn a living: in the past, going to the sea on stilts was mainly to serve a daily meal, and when you harvest a lot, you bring it to the market to sell. When the profession of walking on stilts was brought ashore, Mr. Tam also became a professional actor.
Profession of walking on stilts on land
Quan Vinh is also one of the first places in Nam Dinh to develop the profession of walking on stilts on land. Mr. Tung said that the person who initiated the practice of walking on stilts on land in Quan Vinh was Nguyen Van Luan.
Around the 60s, when Nghia Thang commune opened a village festival, Luan and the elderly in Quan Vinh mobilized more than 10 young people to walk on 3m high stilts, participate in the parade and be welcomed by a large number of people. cheer. Since then, stilt performance has become an indispensable cultural beauty in festivals of the whole region.
Since then, the team of stilts in Nghia Thang commune has been known to many people, and even stilt-walking artisans have been invited to perform in places, for example: the 300th anniversary of Saigon – Gia Dinh, the Festival folklore of Saigon, Hue Festival, Tuan Chau Culture and Tourism Week (Quang Ninh), the 22nd Southeast Asian Games (SEA Games) at Thien Truong Stadium (Nam Dinh) and many times attended the event. Participating in Giang Vo Exhibition Fair (Hanoi) received many certificates of merit from provinces, cities, the Ministry of Culture, Sports and Tourism…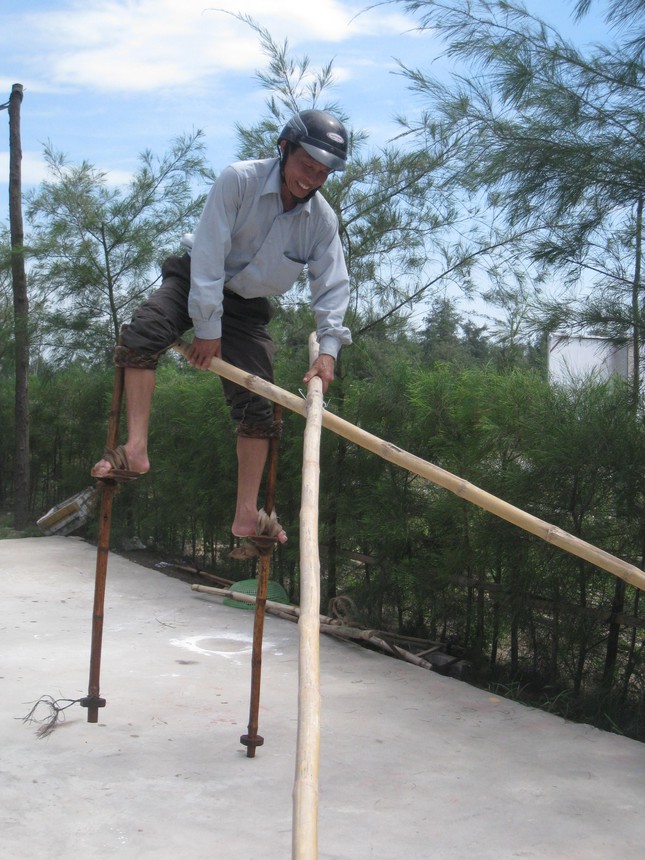 Mr. Nguyen Van Tung performed on stilts to "treat" guests
The art of walking on stilts on land in Hai Trieu commune, Hai Hau appeared about 10 years later than Quan Vinh. Nguyen Van Tam shared: Walking on stilts on land is more difficult than walking in water because of the hardness of the ground and when falling is often more dangerous. If you fall in the sea at most, you will drink a few sips of water, and if you fall on flat ground from a height of 2-3m, it is much more dangerous.
However, most of the stilts players do not have protective equipment when practicing, so some people have fallen and suffered serious injuries, and scars, head tumours, and forehead fractures are common. A person is only considered to be a proficient and "artful" stilt performer when he can walk, jump, change legs, move his body rhythmically, flexibly, and transform skillfully. .
The performances of the stilts teams in addition to recreating the working life of fishermen with fishing methods such as: taking away, mutilating, casting a fish, while performing games such as lion dance, dance Sticks, fan dances or incarnations of fairy-tale characters are all related to historical events bearing the beliefs of fertility, praying for a prosperous and happy life.
Each stilt team has its own achievements, typically the stilts team of Hai Trieu and Hai Ly communes take the lion dance and dragon dance as a separate point.
Or the Quan Vinh stilts are all men, but half of the members specialize in female roles, so their luggage includes scarves, bibs, bras, wigs… Unique and strange features Those eyes create the attraction of Quan Vinh stilts and win the affection of the public near and far…
According to Mr. Tam, currently the stilts team of Hai Trieu commune maintains about 20 members with over 10 unique and attractive performances and games such as swinging, soccer, tug of war, wrestling, lion dance , sword fighting, playing musical instruments…
Mr. Tam himself has often participated in stilt performances for localities, such as once he went to Ho Chi Minh City to perform on the occasion of April 30. Normally, some places that want to organize festivals, grand openings and congratulations also invite stilts to perform lion dances to bring an atmosphere of joy and luck. At that time, the stilts team had jobs and income.
Gradually, walking on stilts became a festival specialty of Nam Dinh waters. Every year, on the occasion of September 2, which is the province's cultural, sports and tourism festival, the stilts teams have the opportunity to gather and compete. On their long legs, artists perform games and sports such as badminton, swinging, soccer, cheo singing, fencing, playing singles, double bars, tug of war, wrestling, lion dance … received the enthusiastic support of the people and tourists.
An official from the Department of Culture, Sports and Tourism of Nam Dinh province said: "There are 10 clubs and stilts teams in the province in coastal communes: Hai Trieu, Hai Ly, Hai Dong, Hai Chinh, and Thi. Thinh Long town (Hai Hau); Giao Phong, Giao Yen, Binh Hoa, Quat Lam town (Giao Thuy); Nghia Thang (Nghia Hung). In recent years, the art of stilts has always been interested by Party committees and local authorities to restore and develop, creating a foundation for the preservation and promotion of village cultural values.
Currently, in addition to men participating in stilt performances, stilts teams in Nam Dinh, especially Hai Hau district, have female faces and are all young people.
You are reading the article
Nam Dinh stilts

at
Blogtuan.info
– Source:
Soha.vn
– Read the original article
here