Post-COVID pulmonary fibrosis can be roughly understood as a condition in which the lung parenchyma is destroyed in the acute phase and cannot be restored to a normal state of lung parenchyma, but is replaced by fibrous tissue (especially in patients with pneumonia). severe lung disease and ARDS).
These fibrous tissues cannot perform the function of exchanging CO2 and O2 in the lungs, leading to shortness of breath, especially shortness of breath when exercising.
Illustrations
This fibrosis can be seen histologically by lung biopsies or fibrous imaging on CT scans. It is accompanied by a decrease in lung volume and a decrease in lung diffusivity through respiratory function tests.
Signs of people with pulmonary fibrosis after COVID-19
Symptoms of people with pulmonary fibrosis after Covid-19 are a persistent dry cough, difficulty breathing when exercising, and getting worse. In particular, patients may have difficulty breathing even at rest, hindering all activities of daily life.
On chest CT scan, lung fibrosis images manifest in many different forms and degrees such as fibrous bands, thickening of interlobular septum, reticular pattern, traction bronchiectasis, honeycomb-shaped lungs, etc. may have varying degrees of pulmonary hypovolemia. On lung biopsy, imaging will show fibroblast proliferation and collagen deposition on histopathology.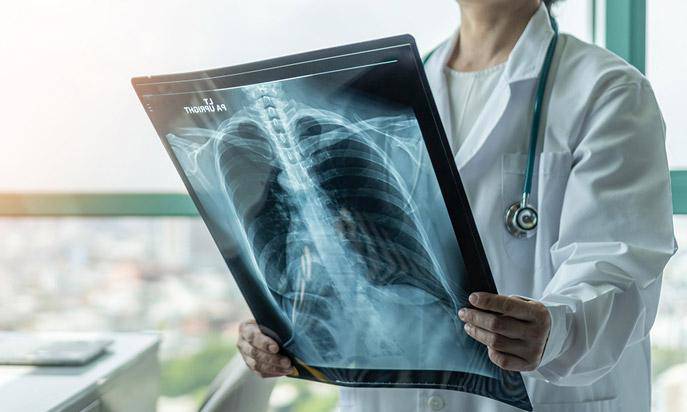 Illustrations
The grading of the severity of pulmonary fibrosis is based on the acute medical condition. 49% of F0 infected with Covid-19 had pneumonia, coagulopathy, shortness of breath, and hypoxemia, all progressing to acute respiratory failure and venous thrombosis. Pulmonary fibrosis is thought to be a complication in people with severe Covid-19.
Experience from previous outbreaks of SARS and MERS shows that most patients will recover gradually after 2-3 years. Meanwhile, a study published in the journal JAMA in 2020 found that most Covid-19 patients with fibrotic lung lesions recover within the first year and then remain healthy.
However, 20% of cases still have more severe fibrosis 5-10 years later. Based on these data, they estimated the incidence of post-Covid-19 pulmonary fibrosis to be around 2-6% in people with moderate disease.
Patients with severe post-Covid-19 pulmonary fibrosis need to be hospitalized for treatment. Current treatments include breathing exercises, oxygen, glucocorticosteroids, antifibrotic drugs (Nintedanib, Pirfenidone), stem cell transfusions, and lung transplantation. Depending on the extent of lung damage, the doctor will advise the patient on the most appropriate treatment measures.
Most concerning is the growing body of research showing that post-Covid-19 pulmonary fibrosis can be a long-term complication, even in people who have no symptoms. This is a condition with no treatment. Several clinical trials are testing a cure for post-Covid-19 pulmonary fibrosis but have not yet announced a breakthrough.
Who is at risk for post-COVID pulmonary fibrosis?
Patients at risk for long-term pulmonary fibrosis after COVID include:
– Severe pneumonia in acute COVID-19 disease, especially in patients with ARDS;
– Patients on positive pressure ventilators, need ECMO treatment, long hospital stay;
– Severe patients, high blood levels of proinflammatory cytokines;
– Patients with pre-existing lung damage, elderly, smokers.
You are reading the article
4 groups of people at risk of post-COVID-19 pulmonary fibrosis, who have these signs, need to see a doctor soon!

at
Blogtuan.info
– Source:
Eva.vn
– Read the original article
here