Giải trí
Xem ăn chơi
Famous specialty fish in Thanh Hoa, sisters bite their teeth to buy and process delicious dishes, VND 800,000/kg
Grouper is not as popular as mackerel, scad, tuna or salmon… They are still unknown to many people, although they are famous specialties in some regions in Vietnam.
The grouper has a stout body and a very large mouth, which looks very different from other fish. The head is quite flat, the skull is hard and has many sharp spines. The mouth is large, the lips are thick, the lower jaw is longer than the upper one and slightly raised. The dorsal fin is very stiff. The entire body of the fish is covered with a small but very hard layer of scales.
The grouper can eat small animals and plants that live in the sea. Their favorite foods are small fish (alum, halibut and thia), crustaceans (shrimp and crab), and small squids.
The grouper has a stout body and a very large mouth, which looks very different from other fish.
In Vietnam, there are about 30 different types of grouper such as barrow, honeycomb, red, brown flower, etc. In which, red grouper is considered a rare species of fish, they only live in coral reefs in the ocean. natural environment, can not be raised like other types of grouper.
Grouper is considered a specialty of Quang Ninh, Hai Phong, Thanh Hoa and Nghe An. Ms. Ngoc Hoa (29 years old) – owner of a large seafood store in Thanh country said: "Seafish is a common seafood species, present in all seas of our country, especially in the North and Central regions of Vietnam. . Especially they are famous specialties of Thanh Hoa. So housewives can easily find them at seafood markets, supermarkets or fresh seafood shops… with prices ranging from 300,000 to 800,000 VND/kg, depending on the type."
According to Ms. Ngoc Hoa, grouper has delicious, sweet, and easy-to-eat meat. So they can be processed into many different dishes, appearing on the menus of restaurants and hotels. But housewives can buy fish to process at home, both delicious and safe for health.
Steamed grouper fish
This dish is extremely delicious, easy to eat, and retains the sweetness of fish meat. Whether children or adults, they will fall in love from the first try. In which, steamed fish with beer and steamed with soy sauce are the two most popular ways of steaming fish.
To make steamed grouper with beer, you just need to prepare a delicious fresh fish, a can of beer and some necessary spices such as onion, red onion, ginger, crocodile, chili, tomato… Make sure the result is a very delicious steamed fish dish, not fishy like many people think.
As for steamed grouper with soy sauce, processing is simpler: after buying fish, women wash and prepare it cleanly and drain. Next, put in the soy sauce and accompanying spices, mix well, bring to the boil to extract the juice. After that, the sisters took that juice to marinate the fish and then steamed it.
This dish is extremely delicious, easy to eat, and retains the sweetness of fish meat.
Sour cooked grouper
The way to cook this type of fish is also very simple, the most important thing is that you have to prepare all the necessary spices such as fresh fish, dried onions, tomatoes, mint, okra, bean sprouts, pineapple… And season to taste. soup to the most mouth-watering is okay. The aroma of spices mixed in fish meat and broth will make people feel more appetizing and no longer have the strong fishy smell as imagined.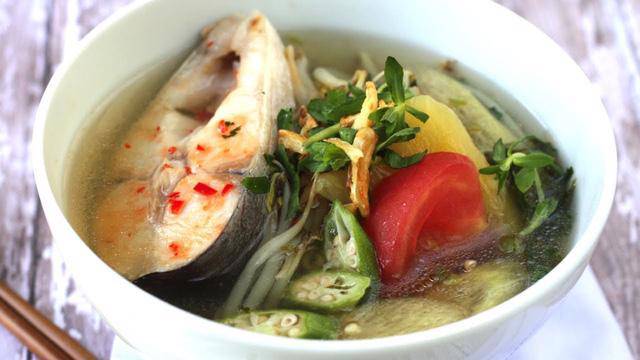 The dish is simple but extremely delicious.
Fish hot pot
To have a super delicious fish hot pot, in addition to fresh catfish, prepare a little extra bone to cook broth, beef, pork, tofu, delicious intestines, clams, dipping vegetables (vegetables) , celery…) and other essential spices such as onions, dill, salt, satay, pepper, monosodium glutamate, etc.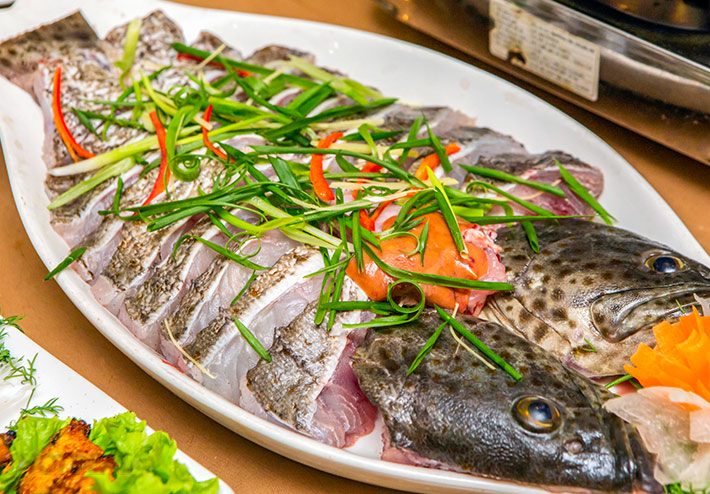 Tasty fish hotpot, suitable for families to gather at the weekend.
You are reading the article
Famous specialty fish in Thanh Hoa, sisters bite their teeth to buy and process delicious dishes, VND 800,000/kg

at
Blogtuan.info
– Source:
Eva.vn
– Read the original article
here