Cư dân mạng
World
The silent love of the beautiful Hue and Trinh Cong Son, he passionately wrote music for himself
The first "pink ball" of a young man surnamed Trinh
Ngo Vu Bich Diem was born in Hanoi but moved to Hue with her father in 1952. Her father is Professor Ngo Doc Khanh, teaching French at Quoc Hoc School. She studied at the University of Literature in Hue, walking to school every day through the camphor trees past Trinh Cong Son's house. The graceful beauty in the white ao dai and the delicate, lovely face of the muse Ha Thanh have gradually entered the heart of the passionate musician.
Trinh Cong Son once wrote about Diem: "Many days, many months of that time, that girl still passed under the canopy of camphor trees. There are many sunny seasons and rainy seasons also follow. The shady sunny seasons open the summer song in the leaves. In the rainy season of Hue, the woman and the girl walked through in the rain between two rows of obscure camphor trees.
Her house is across the river, she has to cross a bridge every day before she meets camphors to go to school. Looking down from my balcony, that figure goes back and forth four times a day.".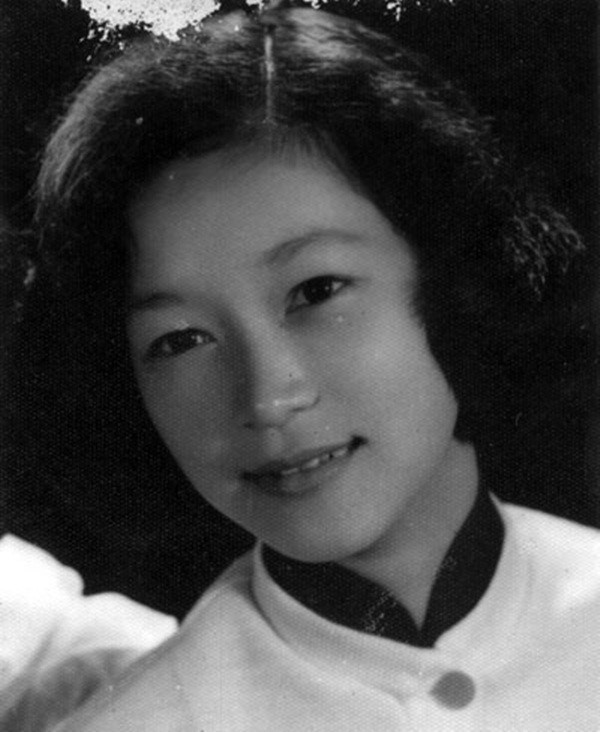 Ms. Bich Diem in her student days.
Only saw her silhouette on the way to school, but Trinh Cong Son fell in love with her. Her love kept growing on the balcony from spring to summer, then summer to autumn, becoming Trinh's first love with a heart-wrenching love. The days of not seeing Diem go by, he was very sad.
After that, he repeatedly invited friends to visit Diem's ​​house. Those times, sometimes she received him, sometimes let her family members continue, and sometimes because her father was at home, she should avoid it, let him sit and drink water and then return.
But the most regrettable thing is that this sentiment of Trinh Cong Son was not answered by Bich Diem. Perhaps Bich Diem was also shaken, but then the musician's relationship with this beautiful girl only stopped at the level of "love inside as before, outside as e".
However, the love was enough to make musician Trinh Cong Son write an immortal song called "Old Diem". The image of a boy languishingly waiting for the silent footsteps of the muse, silently reproaching but still full of love, has captivated generations of music lovers.
"I love Diem passionately"
Later, Ngo Vu Bich Diem moved to America to live. During a visit to Hue in 2010, many friends and fans of musician Trinh Cong Son had the opportunity to meet "his" Diem.
Meeting at the Lieu Quan Buddhist Cultural Center, the character of "Old Diem" shared many childhood memories of the musician standing on the balcony looking forward to "your footsteps, please come back soon".
At that time, at the age of 58, her face, manner and figure made the audience able to imagine the image of a beautiful woman decades ago that made the musician fall in love…
Mrs. Bich Diem recalled that around 1959 – 1960, Diem every day crossed the Phu Cam bridge, walked under the camphor row in front of the Archbishop of Hue to go to Dong Khanh School. But who knows that there is a poor musician in the small upstairs who is always watching. Diem first met Trinh at home, when he was accompanied by an acquaintance.
"He wrote music and he gave me some songs. At that time, I was very young, so I knew how to dream. At first, there was no old Diem song, only later.
I love that song so much. However, in this article, if people pay attention, Trinh Cong Son seems to write more about the beauty of Hue than about… me. I think so. It is the shadow of the ancient inner citadel, the green and mysterious Perfume River, the romantic atmosphere of poetry and music, which Mr. Son has conveyed everything in it.", she said.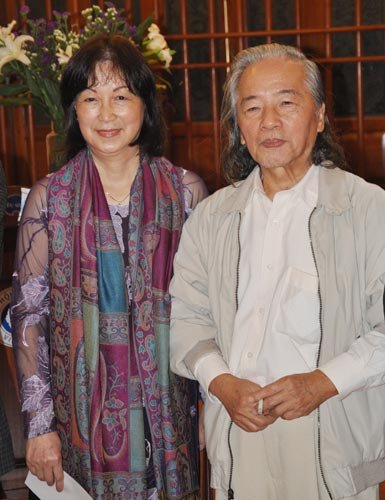 Ms. Bich Diem with writer-translator Buu Y, a very close friend of the late musician Trinh Cong Son in Hue in 2010. Photo: Youth.
In the story about herself and Trinh, there is one thing beautiful people may not know, but writer Buu Y knows well: Bich Diem from the very beginning has entered the mind of a talented musician for a lifetime.
Contemporary researcher Nguyen Dac Xuan told about Diem at that time: "Diem's ​​personality is very suitable for the name Diem and also for the sharp soul of Trinh Cong Son. I love Diem passionately.
The days of not seeing Diem go by, he suffered immensely. He saw the road in front of the house "long and attractive to the eyes". But he also knows that meeting Diem to talk about that pain is not an easy thing.".
https://soha.vn/moi-tinh-cam-lang-cua-giai-nhan-xu-hue-va-trinh-cong-son-ong-say-me-viet-nhac-tang-rieng-20220426170010572. htm
You are reading the article
The silent love of the beautiful Hue and Trinh Cong Son, he passionately wrote music for himself

at
Blogtuan.info
– Source:
Soha.vn
– Read the original article
here