Quốc tế
Russia celebrates victory over fascism
Russia on May 9 held a military parade on Red Square in Moscow on May 9 to mark the 77th anniversary of the victory over fascism.
Speaking at the event, according to RT, Russian President Vladimir Putin not only praised the victory of the Soviet people in World War II, but also mentioned the causes leading to Moscow's special military operation in Ukraine. . According to Putin, the operation is a timely and necessary move to stop what he described as a "completely unacceptable threat right near our borders". The Kremlin boss also affirmed that Russia had "launched a pre-emptive strike against aggression – this is the only mandatory, timely and correct decision of a sovereign, strong and independent country". .
This statement is similar to the message sent by Russia earlier, that it is responding to the threat from the West, especially the North Atlantic Treaty Organization (NATO). The Russian leader also criticized the West for not responding to Moscow's demands for security guarantees and an end to NATO expansion, and said that Moscow had no choice but to act in Ukraine. Therefore, according to Putin, the Russian military is fighting for the country's security in Ukraine. However, according to RT (Russia), Putin emphasized: "Despite all current disagreements in international relations, Russia has always supported the creation of an equal and indivisible security system." The leader mentioned efforts to dialogue between Russia and the US on security guarantees late last year, but to no avail.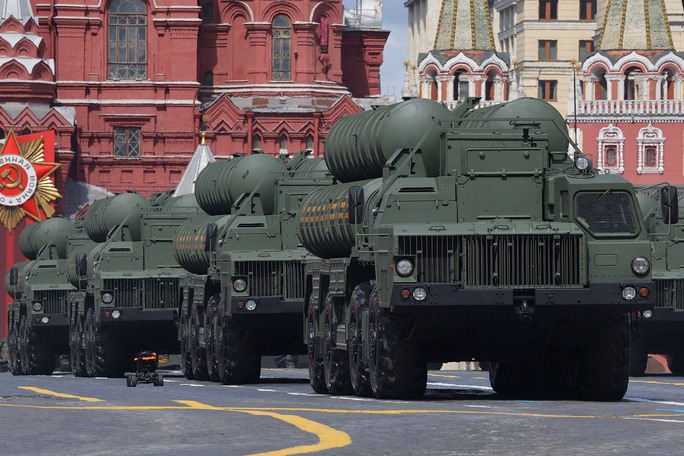 S-400 missile defense system at the parade on Red Square in Moscow, Russia on May 9 Photo: Reuters
The parade program began with a procession of the victory flags of the Red Army of the Soviet Union and the flag of the Russian Federation. Then, Russian Defense Minister Sergei Shoigu in turn reviewed the formations of the Navy – Ground Forces – Air Force, cadets of academies and military schools. The ceremony was attended by about 11,000 servicemen and 131 combat vehicles from the tank forces – armored, artillery, special forces, campaign missiles, strategic ballistic missiles.
The marching part of the motor vehicle formation was led by T-34 tanks. This legendary tank became a symbol of the great Patriotic war of the Soviet people. Followed by formations of armored vehicles Taifun, infantry fighting vehicles BMP-2, BMP-3 and Kurganets-25, tanks T-72B3M, T-90M and T-14 Armata. Notably, the Tornado-G multiple launch rocket system was first introduced at this year's event. Many other modern weapons also appeared at the ceremony, such as S-400 missile defense system, Yars intercontinental ballistic missile, Iskander short-range ballistic missile…
However, according to Russian media, the aerial parade on Red Square was canceled due to bad weather. According to the original plan, this parade part had the participation of 77 aircraft and helicopters, including MiG-29SMT fighters, Su-30SM fighters… In addition to Moscow, the parade commemorating Victory Day. also took place in many cities across Russia, including Vladivostok, Novosibirsk… For this reason, the parade program in many other cities in Russia had to reduce the part of the parade of the air forces.
Sanctions pressure increases on Moscow
Group of 7 leading developed economies in the world (G7, including Canada, France, Germany, Italy, Japan, UK, USA) on May 8 held online talks with Ukrainian President Volodymyr Zelensky about the conflict Russia – Ukraine and additional sanctions against Moscow. According to a joint statement issued after the meeting, the G7 leaders pledged to gradually eliminate dependence on Russian energy, including banning Russian oil imports. In addition, the G7 will work together and with partners to ensure a stable, sustainable global energy supply…
Meanwhile, the United States announced additional sanctions against three Russian television stations, banned Americans from providing accounting and consulting services to Russians, and imposed visa restrictions on many Russian and Russian officials. Belarus. Also included in the sanctions list are some officials from two Russian banks, Gazprombank and Sberbank, arms manufacturer Promtekhnologiya, 7 shipping companies… In addition, the White House said the Regulatory Commission US Nuclear will suspend permits to export special nuclear material to Russia.
On the same day, Bulgaria's Deputy Prime Minister Assen Vassilev said it would not support a new European Union (EU) sanctions package against Moscow if it was not exempted from the proposed ban on buying oil from Russia. According to Vassilev, this exemption is necessary because the country's only refinery at the Black Sea port of Burgas needs time to upgrade to switch to processing crude oil that does not come from Russia. Previously, three countries, Hungary, Slovakia and the Czech Republic have made similar demands because they are now heavily dependent on Russian crude oil. The European Commission on May 6 proposed to give these three countries more time to switch energy supplies.
Heroine
You are reading the article
Russia celebrates victory over fascism

at
Blogtuan.info
– Source:
nld.com.vn
– Read the original article
here