Giải trí
Vietnamese stars touched to share about the program "Together with mother"
The artists are also very understanding of Nutifood's efforts and accept to reduce profits to launch a program for the community to share with mothers who have to struggle with spending, even forced to cut down on milk even though they know it. needed for optimal growth.
Touched by the practical meaning of the program
All artists actively volunteering, MC Quyen Linh, actor Hong Diem, couple Luong The Thanh – Thuy Diem all understand better than anyone the hardships and difficulties of people during the epidemic season. In particular, the images of sick, undernourished, and milk-starved children due to unemployed parents and no income make artists watchful and sad.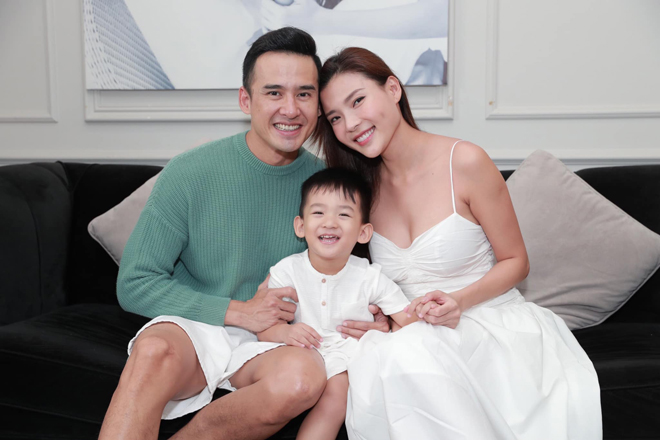 Taking care of her young son every day, Luong The Thanh – Thuy Diem understands the concerns of parents when they cannot ensure enough nutrition for their children during the epidemic season.
"Seeing newspapers reporting that thousands of children are orphaned due to the pandemic, their children are helpless, even newborn babies have to be separated from their mothers forever. Then many difficult families, parents are unemployed or income is not enough to cover them, forcing them to cut their children's milk ration, Thanh and Diem could not hold back. At that age, children have the right to enjoy all the conditions for optimal development, both physically and mentally."Luong The Thanh – Thuy Diem opens her heart.
Sharing the same concern, MC Quyen Linh and actress Hong Diem are also very heartbroken because there are many children who do not have enough milk to drink during the epidemic season. The actress said she tried to find a way to contact so that she could support and help difficult families and children. But really, relying on her own strength, she couldn't help all of those circumstances.
As for MC Quyen Linh, he once shared on his personal page that he felt helpless because even though he tried his best, he could not help all those difficult situations. The male artist wishes all children to be taken care of and receive adequate nutrition, especially during the epidemic season.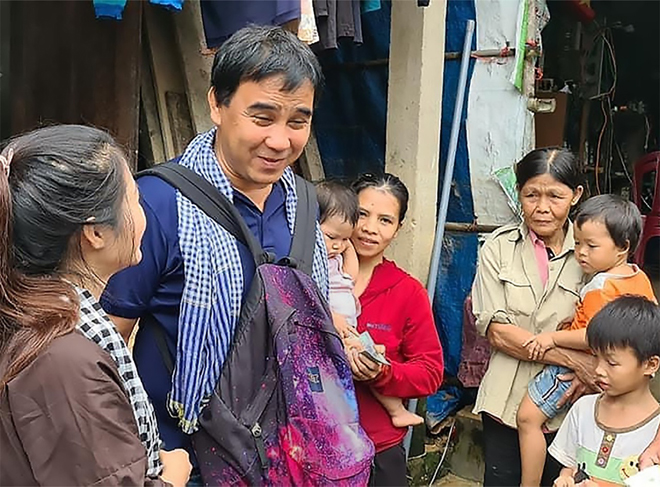 Traveling a lot, seeing many images engraved in MC Quyen Linh's mind is the image of people in difficulty, children without milk.
Therefore, when they learned about Nutifood's program "Together with mothers – Enough milk for children" with 40% subsidy for Nutifood Love Vietnam colostrum formula, applied for 6 months, artists was extremely impressed and delighted.
"For Quyen Linh, this is a very meaningful program, a practical action to relieve the right needs and at the right time with the people. Each box of Nutifood Love Vietnam is small, but Linh feels the great effort of Nutifood in bringing milk to disadvantaged families with small children."male MC said excitedly.
Actress Hong Diem also commented emotionally: "Not only does a deep subsidy of up to 40% help mothers breathe a sigh of relief because their children can drink enough milk, Nutifood also develops its own milk suitable for the health of Vietnamese children, in line with the need to increase resistance. during the pandemic. It is rare for any business to put their heart and effort into a project that does not bring in revenue and profit like this."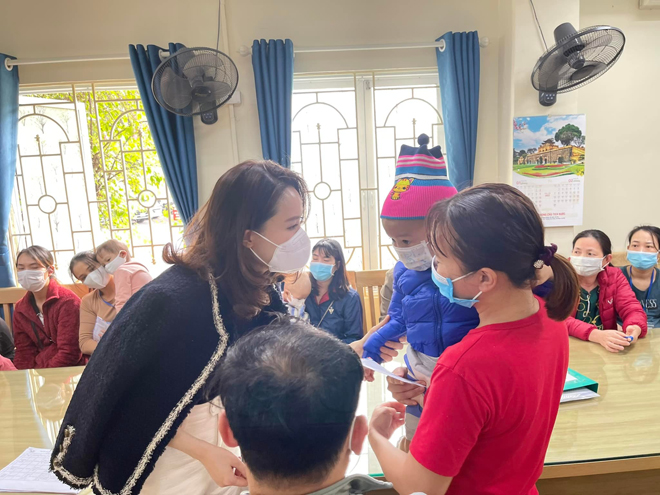 Actress Hong Diem shared her emotion at the meaning of the program on her personal page
Let's join hands so that all Vietnamese children can drink enough milk
It is the profound human meaning of the program "Together with mothers – Enough milk for children" that has inspired the artists positively, making them not only happy and touched but also want to spread it to as many people as possible. .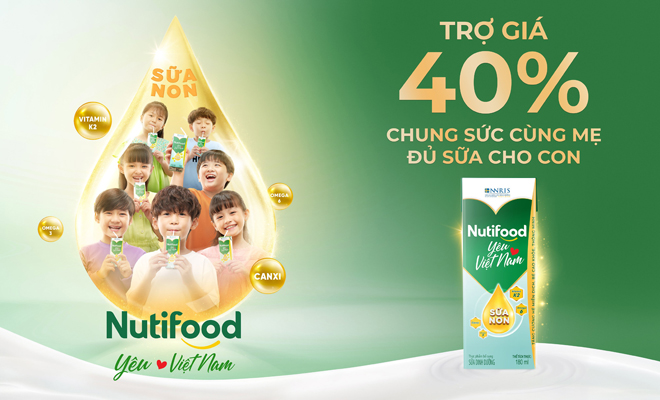 With the aim of joining hands so that all children can drink enough milk during the epidemic season, the program "Together with mothers – Enough milk for children" subsidizes 40% of Nutifood love Vietnam products implemented from January 1 to June 2022.
"Just like the name "Together with mothers – Enough milk for children", the program has a very practical, timely and timely meaning, joining hands with Vietnamese parents to overcome the difficult epidemic period to provide adequate nutrition for the children. Thanks to that, parents can rest assured to focus on work, quickly bring the family back to life in the new normal." Luong The Thanh – Thuy Diem said excitedly. The couple said they will make efforts to spread the word so that more and more children can drink Nutifood Love Vietnam milk to be healthier and increase their resistance while the epidemic is still persistent.
"The MC of the poor Quyen Linh" also said that the program "Together with mothers, enough milk for children" in particular as well as the volunteer activities that Nutifood has organized in general are not only very meaningful to the people. Vietnam but also with you personally. "Quyen Linh is very inspired by Nutifood's anti-epidemic activities. That's why I am always ready to accompany Nutifood in charity activities. I hope that Nutifood will have more community activities in the future. If there is an opportunity, Quyen Linh is always ready to support people with Nutifood."committed male artist.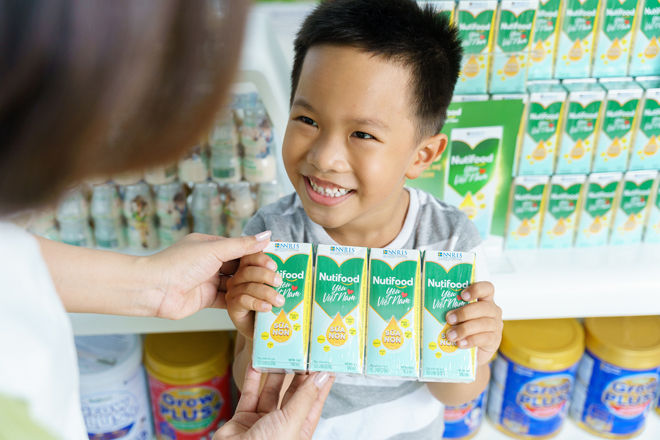 Efforts to spread the program, Vietnamese stars want to join hands with Nutifood to bring quality nutrition to every Vietnamese child.
As for actress Hong Diem, she highly appreciates this community project of Nutifood because the company has deeply understood the sadness and anxiety of parents forced to cut their children's milk because of the impact of the pandemic. sick. "Diem thinks, to implement this program, it is a big challenge for Nutifood when the prices of items are escalating like now," said the actress.
The artists also believe that, through the 40% milk subsidy program "Together with mothers – Enough milk for children" implemented by Nutifood, children across Vietnam will enjoy quality nutrition and their parents Parents will reduce worries as well as financial burden during the epidemic season. "Nutifood Loves Vietnam" is a formula milk supplemented with colostrum supplemented by leading nutritionists at the Swedish Nutifood Nutrition Research Institute (NNRIS). ). Products are "tailored" according to the needs and health of Vietnamese children to help them overcome the epidemic season in a healthy way while ensuring good physical and intellectual development. "Nutifood Love Vietnam" contains 25 essential nutrients, combined with colostrum to help strengthen resistance, improve immunity and prevent respiratory infections. In addition, the product is also added with zinc, calcium, vitamin K2, Omega 3, Omega 6… to help children not only stay healthy but also develop intelligence, height, and overall weight.
You are reading the article
Vietnamese stars touched to share about the program "Together with mother"

at
Blogtuan.info
– Source:
Eva.vn
– Read the original article
here