Japan's longevity drink
Japan is famous for a lot of healthy foods and drinks, which is also the secret to their longevity at the top of the world.
During the summer, there is a beautiful, fragrant drink that is popular with Japanese families, which is Aka Shiso Juice – also known as red perilla juice. Perilla juice brings appetite on hot days and helps restore vitality extremely quickly. It is also beneficial for digestion, anti-aging and more.
However, the ingredients to make a cup of red perilla juice not only need perilla, or sugar, but also need to add apple cider vinegar.
Apple cider vinegar is very popular with the Japanese. Apple cider vinegar is a product containing many beneficial nutrients, used properly will help strengthen the immune system and prevent many dangerous diseases. Fortunately, in Vietnam both apple cider vinegar and red perilla are widely available and cheap.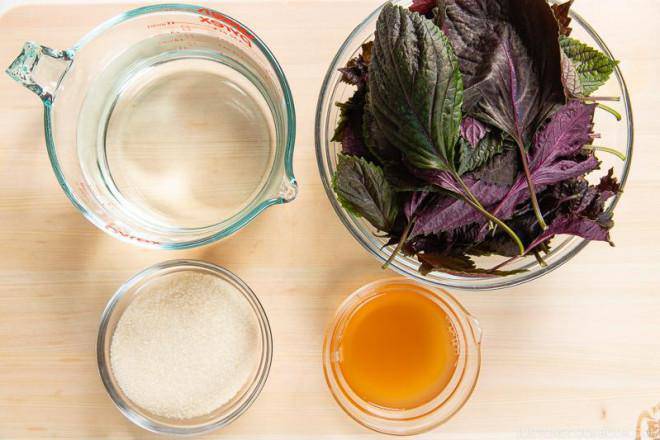 Method: Wash and boil the perilla leaves. Take out the perilla leaves, squeeze out the water, then add a little sugar to the boiling water. After 5 minutes, turn off the heat, wait for it to cool down, then add apple cider vinegar, season to taste.
Perilla cooked with apple cider vinegar will restore vitality and beautify the skin
1. Brighter and healthier skin
The combination of apple cider vinegar and perilla forms a drink that helps to promote healthy, glowing skin. Using apple cider vinegar can help rebalance the natural pH of the skin, improving the skin barrier. With its antibacterial properties, apple cider vinegar can also help prevent skin infections. Perilla helps to promote respiration and metabolism of the skin, making the skin healthy, visibly brighter.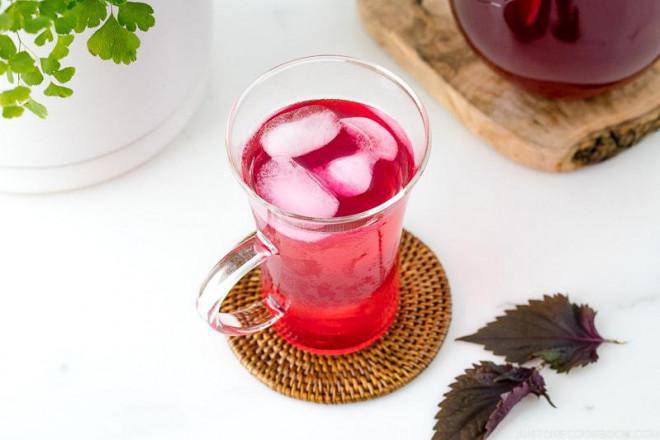 2. Helps reduce blood sugar
The chlorogenic and rosmarinic acids of perilla have been shown to reduce the risk of diabetic complications. Meanwhile, apple cider vinegar helps regulate blood sugar.
According to Healthline, people with diabetes who consume 2 tablespoons of apple cider vinegar before bed reduce their fasting blood sugar by 4% the next morning.
3. Lower cholesterol, prevent heart disease
According to research published in the British Journal of Nutrition, people who take apple cider vinegar pills regularly have reduced blood cholesterol levels. When combined with perilla juice, the effect will be doubled because perilla is rich in fiber, also has the effect of reducing bad cholesterol and increasing good cholesterol. This drink helps prevent cardiovascular disease, heart attack, stroke.
4. Very good weight loss support
The Japanese have the lowest obesity rate and the highest life expectancy in the world. The most likely cause is this apple cider vinegar perilla drink. In the essential oil of perilla contains Alpha linolenate, this is an essential omega-3 acid, beneficial for health promotion, weight loss. And apple cider vinegar may contribute to weight loss by promoting feelings of fullness, lowering blood sugar and lowering insulin levels.
5. Fight against cancer
The more antioxidants people consume on a daily basis, the lower their chances of getting cancer. Meanwhile, perilla leaves contain very strong antioxidants, so they have the ability to prevent the growth of cancer cells.
Apple cider vinegar has also been proven to prevent cancer, block the formation of nitrosamines, boost metabolism, and boost immunity.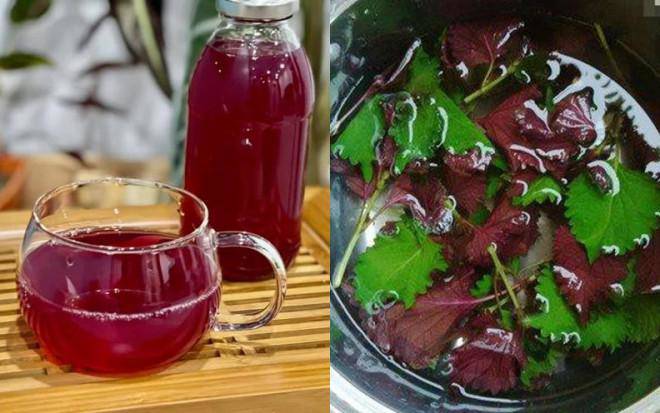 Note:
People with stomach ulcers should not take drinks containing apple cider vinegar until the ulcer is healed.
Do not abuse apple cider vinegar because it can damage tooth enamel and damage the stomach. Do not abuse perilla leaves because it can cause gas, bloating and many other side effects.
People who are allergic to apple cider vinegar, perilla, pregnant women… should not use this drink.
You are reading the article
Perilla juice added with this will restore vitality, smooth skin, no wonder the Japanese take care of it

at
Blogtuan.info
– Source:
Eva.vn
– Read the original article
here