Sức Khỏe
Homemade sunscreen and 3 reasons not to use it
According to the National Center for Hydro-meteorological Forecasting, on May 9, the North, the Central Coast and Nha Trang had a very high harmful UV index (7.6-9.8). Meanwhile, this index in the South is at an average level.
While forecast for the next three days, the Central and Southern regions have a very high potential UV peak forecast (9.0-10.0). The North stayed at a moderate to high level (4.0-7.0) for the next 2 days, then rose to a very high level (9.0) on May 12.
To protect skin from sun damage, besides commercially available products, many women learn homemade sunscreen recipes.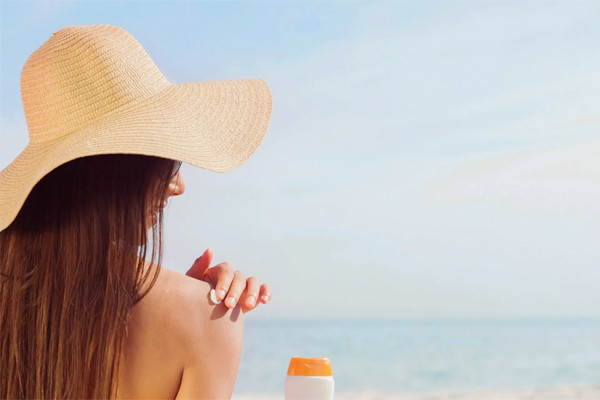 Not removing all impurities, homemade sunscreen easily causes irritation
Just type the keyword "sunscreen recipe", for more than 0.5 seconds to over 30 million results. All recipes are introduced that are easy to make, compact, and cheap.
In particular, safety is emphasized due to the fact that the ingredients are completely natural, less irritating and allergic than ready-made sunscreens, helping the skin to avoid chemicals, especially for people with sensitive skin.
The ingredients for making these "handmade" sunscreens are easy to find such as: coconut oil, aloe vera, beeswax, green tea, yogurt or avocado oil, almonds, olives…
"Homemade sunscreen from natural ingredients, fruits that are still eaten every day with the belief that the product is safe and non-irritating is a mistake", said MSc.BSCK2, specialized in Dermatology Nguyen Quang Minh.
According to Deputy Head of the Department of Research and Application of Stem Cell Technology at the National Hospital of Dermatology, ingredients in homemade sunscreens can easily cause allergies because they cannot remove impurities in ingredients. use.
Taking the example of avocado – an ingredient that is considered safe by women, Dr. Minh said, when extracting avocados to put into sunscreen ingredients, professional manufacturers can only take some active ingredients. substance, but not all. The same goes for other natural ingredients.
Doctor Minh said that the combination to increase the effectiveness has also been researched, tested and specifically evaluated. This is completely different from arbitrarily choosing ingredients that we believe can achieve sun protection.
There are 7-25 different ingredients in sunscreen. Therefore, for each person, it is necessary to determine the criteria to choose the right one, not simply based on a certain formula to test on their facial skin with the belief that "natural products should be safe".
SPF – important information not proven
The SPF index represents the time and coverage of the sun is an issue to consider when choosing a sunscreen.
One SPF is equivalent to 15 minutes of protection. Dermatologists advise people to choose products with an SPF of 30 or higher. According to Dr. Minh, sunscreen with SPF 30 can cover and protect skin 93-94%, SPF 50 can cover and protect 97-98%…
These are important information when choosing sunscreen, tested and announced by manufacturers. Meanwhile, with "handmade" sunscreen, the effectiveness and protection time have not been specifically evaluated.
Based on the SPF index, the user considers which cream is suitable for the day's activities. For example, when going to the beach, it is necessary to choose a sunscreen with a high SPF of 50 or higher and actively reapply the cream to protect your skin.
MSc Phan Ngoc Huy – Department of Aesthetics and Dermatology of Ho Chi Minh City Hospital of Dermatology, said that it is advisable to choose a broad-spectrum sunscreen to protect the skin from the harmful effects of ultraviolet rays, UVA and UVB.
When sweating a lot or being exposed to water for a long time such as swimming or bathing, people should choose sunscreen with water resistance.
Sensitive skin uses homemade sunscreen that is easy to cause allergies
There are two main types in sunscreens, chemical and physical. In particular, "handmade" sunscreens with natural ingredients are classified as chemical sunscreens.
Chemical sunscreens (Suncreen) contain organic ingredients. This cream has a soft texture, feels comfortable but is less sustainable under the impact of the environment.
Chemical sunscreens absorb UV rays to break down and treat them before they cause damage to the skin. The main ingredients in this type often include: avobenzone, oxybenzone, tinosorb, octylcrylence…
Meanwhile, physical sunscreens (Sunblock) have metal oxide ingredients (such as titanium oxide, zinc oxide), the nature of use is often sticky due to the thick cream texture and color tone. whiter…
This is an inorganic sunscreen that has the ability to reflect UV rays, preventing UV rays from penetrating the skin.
For people with sensitive skin, studies around the world show that physical sunscreens are very benign while chemical sunscreens are easier to cause allergies and are less prescribed by dermatologists.
Many people think that homemade sunscreen is safer because of its natural ingredients (belonging to the chemical cream line). However, the truth is that doctors often recommend that people with easily irritated, acne-prone skin use physical sunscreen.
Using chemical sunscreens with people with sensitive skin can make the condition worse.
Should children use sunscreen?
MSc.BS Phan Ngoc Huy recommends that children over 6 months old need to use sunscreen when playing outdoors. Usually, sunscreen products for children often have a picture or the words "children" or "baby".
These products only contain ingredients such as titanium oxide, zinc oxide, which are less irritating to children's skin.
Thanh Hien
You are reading the article
Homemade sunscreen and 3 reasons not to use it

at
Blogtuan.info
– Source:
vietnamnet.vn
– Read the original article
here