Thế Giới
Will the US remove tariffs, be gentle with Chinese goods?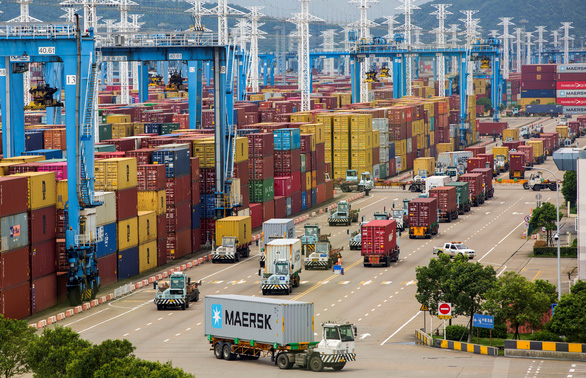 Trucks carrying containers at Ningbo – Zhushan port in Zhejiang province, China in August 2021 – Photo: Reuters
Speaking on CNN over the weekend, Gina Raimondo – US Secretary of Commerce – said that President Biden had asked his subordinates to consider the option of removing some tariffs imposed on Chinese goods under his predecessor Donald Trump. Trump to deal with the current high level of inflation in the country.
Still lack of faith
"We decided to keep some tariffs in place on steel and aluminum because we need to protect American workers and the domestic steel industry. It's a matter of national security. But other products like household goods. , bicycles… might be reasonable (to consider lifting tariffs)," Ms. Raimondo said.
The record high gasoline prices have greatly affected the lives of Americans. In recent weeks, Mr. Biden has repeatedly stressed that dealing with inflation is his "top priority".
Research in March by the Peterson Institute for International Economics (PIIE, USA) estimated that the removal of a series of tariffs, especially on Chinese goods, could drag down inflation in the US by 1.3 percentage points.
The Trump administration has imposed tariffs on more than $300 billion of Chinese goods after accusing the country of stealing intellectual property from American companies and forcing them to transfer technology. After that, China also imposed tariffs against the US.
However, some experts in the US believe that Biden's plan to lift tariffs on Chinese goods will not help much in reducing inflation, while it can give Beijing an advantage in relations. bilateral trade.
Mr. Bob Bilbruck, managing director of consulting firm Captjur, assessed that the removal of tariffs would "forever turn the competitive landscape" in China's favor. He warned that the tariff removal would likely be a unilateral move without any goodwill response from China.
"Tariff lifting doesn't help the most inflationary things like gasoline and food. And there's no guarantee that China will lower the price of the goods it exports to the US just because we've cut tariffs on products that we've already cut tariffs on. this product," he added.
China is skeptical
Meanwhile, Chinese analysts expressed doubts about the US intention to lift tariffs. According to the Global Times, they believe that the comments of officials like Minister Raimondo are mainly politically motivated, specifically the US midterm elections in November. They say reducing inflation in the US requires Washington to remove all tariffs already imposed on Chinese goods.
"In the US, decisions about tariffs are not made by the Department of Commerce, but by the Office of the United States Trade Representative (USTR). So why did Mr. Biden ask Ms. Raimondo to analyze the removal of tariffs in the US. when is US Trade Representative Katherine Tai doing it?", said Cao Lang Van, a trade expert at the Chinese Academy of Social Sciences in Beijing, on June 6.
In the US, there are currently two opposing views on the removal of tariffs for China to deal with inflation. In late May, the Washington Post published a commentary urging the White House to move from a "tough" to a "smart" approach to China, starting with easing at least some of the expensive tariffs.
The issue is also causing divisions within the Biden administration. In May, US Treasury Secretary Janet Yellen expressed support for lifting some tariffs on Chinese goods that are "not very strategic but harmful to US consumers and businesses".
However, Reuters news agency said that US Trade Representative Katherine Tai wants to keep these tariffs in place to develop a more strategic agenda on trade with China. Ms. Tai said that the US needs to take a more strategic approach to tariffs to protect domestic workers.
According to Axios, unions in the US are now warning Biden not to lift tariffs for China. "Our government must act in the national interest to strengthen the economy of the future," said Thomas Conway, president of the Union of Steel Workers (USW).
US exempts battery tax for 4 Southeast Asian countries
On June 6, US President Joe Biden announced tax exemption for 24 months for solar panels imported from 4 Southeast Asian countries, namely Vietnam, Thailand, Cambodia and Malaysia, to promote clean energy in the world. country.
The decision is expected to ease the potential burden on US importers and exporters in the four Southeast Asian countries, according to Nikkei Asia magazine.
You are reading the article
Will the US remove tariffs, be gentle with Chinese goods?

at
Blogtuan.info
– Source:
tuoitre.vn
– Read the original article
here