Sức Khỏe
Thousands of people registered to inject the monoclonal antibody Evosheld against Covid-19
According to Tam Anh General Hospital System, thousands of people have "booked" to wait for injections on the first day of opening a registration channel to inject the monoclonal antibodies against Covid-19 for prevention of Covid-19 for immunocompromised, cancer, and organ transplant patients. , can not vaccinate.
Prevention of Covid-19 in immunocompromised people who cannot be vaccinated
Since SARS-CoV-2 appeared in December 2019, to March 22, 2022, the world had about 470 million people infected, more than 6 million people died (average nearly 7,000 deaths per day). ). In Vietnam, the number of infections also reached more than 8 million, nearly 42,000 people died.
The World Health Organization (WHO) estimates that around 2% of the global population is vulnerable to Covid-19 due to moderate to severe impaired immune function. This target group needs more options to prevent Covid-19.
In that context, AstraZeneca – a British and Swedish pharmaceutical company has researched and produced a monoclonal antibody Evusheld to prevent Covid-19. From more than 1,500 antibodies of people recovered from Covid-19 around the world, scientists have selected the two most potent antibodies to create Evosheld. This is the world's first single antibody approved by the FDA to prevent SARS-CoV-2 virus, especially in high-risk groups, vulnerable people, immunocompromised groups, and people who are not immune to the virus. ability to produce antibodies despite having received a full dose of Covid-19 vaccine, or those who are unable to receive the vaccine.
The appearance of Evusheld is expected to help the vulnerable group overcome Covid-19.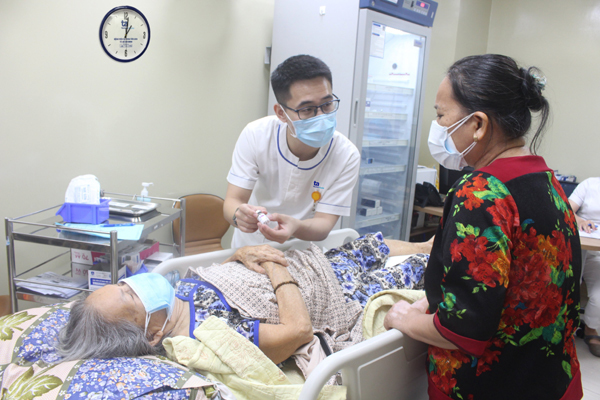 An 82-year-old woman who lost her eyesight and broke her leg (is lying on a stretcher) has traveled 150 km from Dong Nai to the staff of Tam Anh General Hospital in Ho Chi Minh City to vaccinate against Covid-19. Photo: Tue Diem
It is now possible to register for an injection of Evesheld to prevent Covid-19
In Vietnam, according to Assoc. Prof. TS.BS Tran Quang Binh – Professional Director of Tam Anh General Hospital in Ho Chi Minh City, with 2 leading large general hospitals in Hanoi and Ho Chi Minh City, Tam Anh General Hospital System has a large number of patients. There are quite a lot of patients for examination and treatment of chronic and acute diseases. Many cases have not been vaccinated against Covid-19 due to the dense treatment regimen, the use of many immunosuppressive drugs … such as cancer patients, organ transplant patients, systemic diseases, arthritis, osteoarthritis… This is a group of patients at risk of not having an immune response enough to fight Covid-19, and also a risk group that if infected with Covid-19 will easily become severe and die.
"Vietnam currently has nearly 230,000 people living with HIV, 6,100 people with organ transplants (liver and kidney transplants…), 182,563 new cancer patients… This vulnerable group of people are in dire need of a shield to protect their health. before the SARS-CoV-2 variants are spreading", said Assoc. Prof. TS.BS Tran Quang Binh.
Information after the vaccination campaign for the elderly and people with underlying diseases in Ho Chi Minh City recorded at Tam Anh General Hospital in Ho Chi Minh City also shows that some people have a history of severe allergies to allergens, people with underlying diseases, chronic diseases; people with a history of thrombocytopenia and/or coagulopathy, an acute illness; people who have a history of anaphylaxis with a Covid-19 vaccine or have not been vaccinated against Covid-19 because of concerns about the risk of severe anaphylaxis… These groups of people are in dire need of protection amid the increasing number of infections. rapidly in recent times.
In early March 2022, the Ministry of Health licensed AstraZeneca and Tam Anh General Hospital System to import and use the monoclonal antibody Evusheld through the distribution of Vietnam Vaccine Company (VNVC).
On March 22, 2022, Tam Anh General Hospital System officially opened a registration channel for injecting monoclonal antibodies Evusheld.
"On the very first day, thousands of people signed up for the injection of the monoclonal Levusheld antibody. The group of people seeking to register for registration are mostly elderly people, people being treated for cancer, severe musculoskeletal diseases, people who have had organ transplants, people who cannot receive vaccines due to allergies to drug ingredients…", Assoc. TS.BS Tran Quang Binh added.
Eusheld monoclonal antibody licensed in Vietnam at this time has a profound human meaning when many people expect and express their desire to be injected with Evusheld for themselves and their loved ones.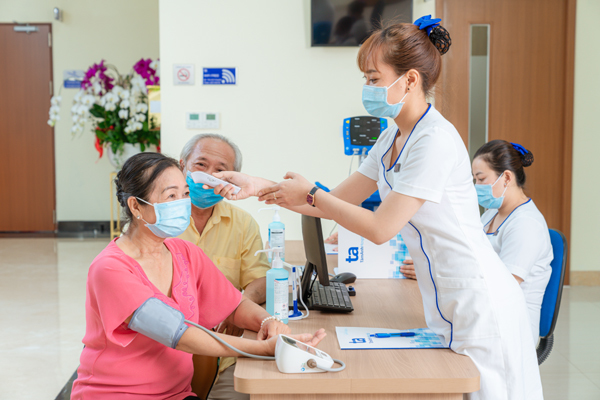 The patient's temperature, blood pressure … before entering the screening examination for Covid-19 vaccination at Tam Anh General Hospital. Photo: Thuy Nguyen
According to PGS.TS.BS. Tran Quang Binh, Evusheld monoclonal antibody is a drug, not a vaccine. Evusheld is not intended to be used as a substitute for the Covid-19 vaccine for the community, but is aimed at a group of people who cannot receive the Covid-19 vaccine or cannot create an immune response to the Covid-19 vaccine, people who are depressed. Immunocompromised, cancer patients, organ transplant recipients, immunosuppressive drugs… Persons assigned to use Evusheld must be at least 12 years old, weigh 40 kg, and are not infected with SARS at the time of injection. -CoV-2, no known contact with a person infected with SARS-CoV-2 (F0).
According to research by AstraZeneca, this monoclonal antibody has the ability to protect the body from Covid-19 up to 83%, just a few hours after injection, there is no case of severe illness or death during the 6 months following the injection. track. Evusheld has been shown to be effective for prevention for at least 6 months, even with the Omicron variant.
Also according to the AstraZeneca study, this effect was observed even in people who are immunocompromised due to disease or are taking drugs, immunosuppressive regimens and may not produce an immune response. people with Covid-19 vaccines such as: organ transplant recipients, cancer patients, HIV patients, currently receiving immunosuppressive drugs (eg, taking long-term, high-dose corticosteroids) or having been treated within 6 months…
Register for injection of monoclonal antibodies Evusheld at Tam Anh General Hospital in Hanoi and Tam Anh General Hospital in Ho Chi Minh City: HERE
Or you can contact the Customer Care Department via the switchboard of Tam Anh General Hospital System: 0287 102 6789 (HCMC); 1800 6858 (Hanoi City)
Pearl league
You are reading the article
Thousands of people registered to inject the monoclonal antibody Evosheld against Covid-19

at
Blogtuan.info
– Source:
vietnamnet.vn
– Read the original article
here